The Power of Yes
David Hare
RNT Lyttelton
(2009)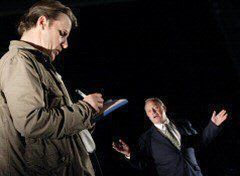 At long last, the theatre has discovered the excitement and unintended humour of the world of high finance.
The Financial Times was there a couple of centuries ago and the Today Programme spotted the prospects early in the second half of the last century. However with a handful of honourable exceptions like George Bernard Shaw and Caryl Churchill, this daredevil world has passed the stage by until now.
Ironically, playwrights have missed 17 consecutive years of boom and only come to the subject after the bankers' game of Russian roulette has ended in multiple tragedy.
To give them credit, Lucy Prebble with Enron and Sir David Hare in this fine verbatim dash through the economic disasters of the last couple of years have both presented fine pieces of theatre that make what should be a dull subject both accessible and, dare one suggest it, enthralling.
Under the sure direction of Angus Jackson, who lightens the tone with Stephen Warbeck's music and stage-wide graphic images created by Jon Driscoll and Gemma Carrington, a cast of 20 playing closer to 50 parts work perfectly together as an ensemble. Together they bring many of the big names from government, business, banking and the professions into the limelight to tell their tales, or if you prefer, make their excuses.
Sir David has made himself into one of the masters of Verbatim Theatre with recent works including Stuff Happens and The Permanent Way. On this occasion, he becomes a central figure in his own work in what could be seen as an outrageous example of self-promotion but in fact helps "ignorant" viewers to identify with somebody who starts with no more financial nous than they have themselves.
Anthony Calf, playing the playwriting knight, is assisted in his exploration by Masa Serdaric, a patient 23-year-old researcher exiled from Sarajevo, who is brought to the stage by a determinedly straight-faced Jemima Rooper.
Together, the pair travel through the disasters of the last couple of years, interviewing many of the major players from this side of the Atlantic and a smaller selection from George W. Bush's land of failed opportunity. The whole becomes a high quality montage of investigative journalism carefully pieced together to get the necessary messages about corporate greed across.
The comedy starts early, as we meet Malcolm Sinclair as Myron Scholes, an American academic whose unintelligible formula for share valuation is still compulsory fare for listed companies' accounts.
He is a good talker and explains his infallible method of wealth creation with impeccable confidence that is only belied when we discover that he created a company which went bust for billions and cost Scholes his shirt.
Others do little better in a sorry tale that is heralded by the loss of Northern Rock and arguably reached its peak when Lehman Brothers memorably bit the dust. Methodically but avoiding dullness throughout an hour and three quarters, Sir David takes us through the various steps that eventually led not only a couple of large banks into black holes but took Iceland with and at one point threatened to close down the Western world economy as we know it.
The message that eventually comes over loud and clear is of wilful neglect by those charged with protecting innocent investors. While nobody particularly disagrees with the concept that high rollers must accept the risks that they enter into, poor people losing their homes and their savings is a different matter.
Therefore, the likes of the much vilified Sir Fred Goodwin, a belligerent and unapologetic Howard Davies convincingly portrayed by Jonathan Coy and a dozen others seen on stage, as well as many more American equivalents must at some point have blame apportioned to them, if not their hefty bonuses withdrawn.
The financier who comes out of The Power of Yes with most credit is probably Bruce Myers' George Soros, identified in the programme as a hedge fund manager and philanthropist. If nothing else, he should at least understand the pain having achieved something that few others can boast, losing a personal billion overnight.
In fact, as an unnamed Financial Times journalist played by Claire Price identifies, the city whiz kids completely failed to accept that they have done anything wrong and that is the real problem.
While The Power of Yes will undoubtedly appeal to professionals who have been in the centre of the action, the creative team achieve something special by making a topic that does not have instant attraction for the man in the street highly enjoyable. As such, it should be high on the list of must-see plays this autumn, along with its spiritual sister, Enron

Reviewer: Philip Fisher