Preen Back Yer Lugs!
Anders Slotte, Christoffer Mellgren and Tobias Zilliacus in a Scottish Version by Paul F Matthews
Svenska Teatern
Pleasance Dome
–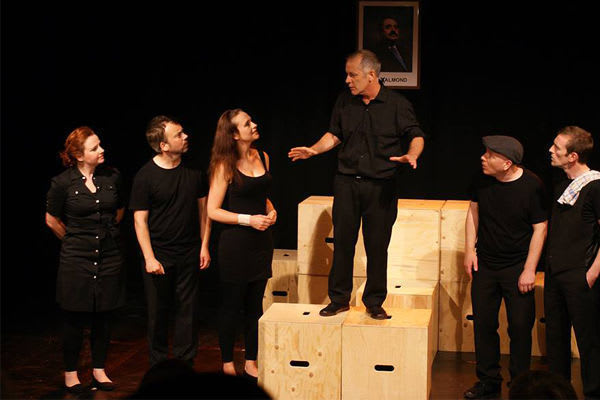 This Scottish company that specialises in Finnish work has already had double success at the Fringe under the direction of Aleksis Meaney.
The only thing wrong with their latest venture is a meaningless title that undersells a fine, sometimes absurdist satire on Scottish independence.
The ensemble specialises in pacy, demonstrative acting that eschews props in favour of strong performance and even a little song and dance.
The story starts in 2108 after World War VII when the whole world has been destroyed—except Scotland.
Kindly, under Tom Freeman as moustachioed leader Alex Almond, the inhabitants have offered haven, if not equality, to their dispossessed English neighbours.
The cast brilliantly swap accents as they represent oppressors and victims even-handedly, with Billy Mack good as ever playing Roland Beauchamps, the figurehead of the English and sweet-voiced Sarah McCardie a double agent with a heart of gold.
Preen Back Yer Lugs, is a witty comedy that might just have a little to say about the current political debate regarding independence. Even if it hasn't, the energetic company guarantees a fun-filled 80 minutes.
Reviewer: Philip Fisher