President of an Empty Room
Stephen Knight
RNT Cottesloe
(2005)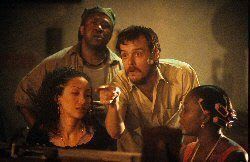 Cuba has become a popular holiday destination for relatively rich tourists with its all-inclusive rum and sun packages. On or more basic level, the average punter knows two facts about this Spanish-speaking Caribbean country. It is run by Fidel Castro and has been for longer than most people can remember and its major export is the seriously expensive cigar.
Steven Knight's new play takes place in Havana and presided over by a portrait of the cigar-smoking Fidel's laid-back figure. Like Nilo Cruz' Anna in the Tropics, it is set in a tobacco factory where the glorious product is hand-rolled. There is little else that fits the brochure stereotype or, to be realistic, that would attract the uncertain holiday maker.
In Howard Davies's production, life in the factory is realistically depicted thanks to a wonderful thrust set designed by Bunny Christie. It is long and narrow which brings the audience right into the action. This takes place in the rolling room at one end of the theatre and the cigar taster's office at the other, with not a machine in sight. Wherever you are sitting, you're not far from the action and when the dancing starts up you feel like joining in.
Paul Hilton, who received an Olivier nomination for Mourning Becomes Electra at the National last year, plays Miguel, a Castro-bearded master roller who has the potential to be the star of his generation. Regrettably, as the play opens he is not having a good time of it.
Like two of his older colleagues, Miguel has been deserted by a girlfriend who has sought the riches of the United States. As things develop, both he and we are aware that she is on the high seas with the boss, making a perilous journey to freedom.
Miguel's solution to the loss of the girl and the boss is twofold; a big hit of heroin and his not terribly democratic election as president of the rolling room. Paul Hilton gives a good performance that particularly impresses as he gets under the skin of the sweaty, desperate drug addict with wild eyes.
Steven Knight is best known for his Oscar-nominated screenplay for the film Dirty Pretty Things, an intelligent drama about illegal immigrants starring Chiwetel Ejiofor and Audrey Tautou. He showed then he had an ability to create memorable offbeat (and generally unhappy) characters and does so again on stage.
Stephen Moore plays Allones, supposedly deaf but hearing better than anybody, if only because people talk indiscreetly in his presence. Anthony O'Donnell is the resentful, wheelchair-bound Sancho who is ambitious but surely too old to progress, while we also see a bevy of giggling girls in love with Michael Jackson and a young man who not only aspires to emulate Miguel but struggles to cover up his illicit love for him.
The finest performance in support of Hilton comes from Noma Dumezweni as the unofficial "Head of Company Morale". Her efforts to support her role reach their peak with the charitable Wednesday "service" that she provides to Sancho, surely way beyond the call of duty. She is also a deeply religious woman in a country of atheists, who divides her religious support equally between the Catholic Church and Voodoo.
In these people, it is possible to see something of what life might be like for the working classes in Cuba. We also get extra dimensions as Alexandra dreamily appears to the sound of a solo violin and haunts Miguel with memories of love.
At the end of the two hours, a not entirely unexpected revelation colours the play. By then, though they may have become a little lost in ghostly spirituality, audience members should feel that Howard Davies' production has allowed them to encounter something of the warmth, superstition and weird normality that is Steven Knight's vision of the essence of Cuba today.
Reviewer: Philip Fisher