Present Laughter
Noël Coward
Theatre Royal, Bath, in association with Birmingham Repertory Theatre
Yvonne Arnaud Theatre, Guildford, and touring
(2006)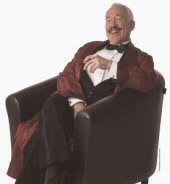 Simon Callow (in this play I hasten to add) is self-centred, histrionic, melodramatic, egotistical and vain – in other words he is a practically perfect Garry Essendine – always acting – in fact overacting! He doesn't quite look the epitome of smart elegant sophistication that would have been the style of 'The Master' himself, but he more that makes up for this by his crisp, clear enunciation, meticulous timing and amazingly communicative expressions.
Written in 1939 and judged to be his most humorous, Coward's play is believed to be semi-biographical – a man reaching middle age and, in an effort to deny the advancing years he "indulges in rampant womanising". Not quite Coward's style, given his sexual preferences, but it makes great comic theatre in its wittily exaggerated account of the lives of the rich and famous whose privileged lifestyles (servants are de rigueur) don't stop them behaving badly. In spite of being surrounded by adoring fans, friends, and partners, there is vulnerability about matinee idol Essendine, suggesting an underlying loneliness and a necessity to fill the void with too many sexual partners.
The title is taken from a line in Shakespeare's Twelfth Night .
"Present mirth hath present laughter, what's to come is still unsure .
..Youth's a stuff will not endure"
He is about to set off on a performance tour of Africa, but will he ever survive the many distractions before his departure!
Designer Paul Farnsworth's set is a dream – a beautifully elegant high-ceilinged apartment in Mayfair, exquisitely furnished in refined Art Deco style, and dominated by a large wall-hung sketch of Essendine (with many more smaller sketches in the style of the characters this actor plays on stage). Leading to the bedroom there is a very tall and beautiful white spiral staircase negotiated by the performers with calm composure – which cannot have been easy. The costumes too are exquisite, with more that one other member of the female section of the audience joining me in a collective sigh of pure pleasure, mixed with envy!
Monica, Essendine's secretary for seventeen years, "knows him better than most but not so intimately as some" and has absorbed a great deal of his caustic wit, with a drawling yet brittle delivery perfectly captured by Tilly Tremayne, while Jessica Turner as wife Liz (separated, but never getting around to a divorce) has a similar, but more elegant down-to-earth style and is perfectly happy with the numerous young ladies who "forget their latch keys" and spend the night in the spare room.
Added to the distractions which make up his difficult morning (once he manages to get out of bed) are a very nonchalant valet (Richard Hollis) who rather disapproves of the goings on, and a Scandinavian housekeeper (Victoria Lennox) who indulges in the occult, but the most distracting is the arrival of an "angry young man" (Robin Pearce) ready to confront Essendine and challenge his views, yet when being challenged himself completely reverses his view "Insulting me and then sublimating me!" says Essendine in bewilderment. The dislocating handshake of this young man almost catapults the play into farce, but director Michael Rudman soon brings it back on its more sophisticated course.
The production is very fast, very funny and written with superbly clever, witty and exaggerated observations of human nature, as you would expect from Coward. Expertly performed by the whole company, but the action constantly revolves around Callow, and this experienced, versatile and charismatic actor takes it all in his stride. Almost three hours, but not seeming a moment too long!
Peter Lathan reviewed this production at the Theatre Royal, Newcastle, and it was later reviewed by Robert William at the Cambridge Arts Theatre
Reviewer: Sheila Connor