Present Laughter
Noël Coward
Arts Theatre, Cambridge, and touring
(2006)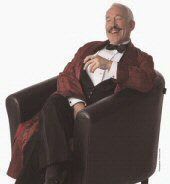 Present Laughter is an apt title for a play which now seems firmly rooted in its past. Noël Coward's 1939 comedy, written as a star-vehicle for its author, stands between the wars, and seems now to embody our view of the period, a frothy, naïve playfulness providing a distraction from a mounting sense of loss. Like so much of Coward's output, the eminently stylised surface of the play reflects the contemporary concerns of its writer.
Kudos to Michael Rudman for crafting his superb revival of Coward's play on that basis, jettisoning the endless, lightly tossed-off, camp stylizing that sinks so many Coward revivals into second-rate impersonations of Coward himself. Rudman directs Present Laughter as a play in its own right, and yet fascinatingly seems to point the play's moral back at its author.
For, played by Simon Callow, we are never allowed to forget that Garry Essendine is an actor, and one between artificial performances. As his flat is invaded by admirer after admirer, Callow's Essendine gives one overacted performance after another - and, in designer Paul Farnsworth's black and white art-deco flat, he is surrounded by photos of his past performances (in a clever autobiographical touch, photos of Callow in his own previous performances).
Farnsworth's set of numerous proscenium arches, decreasing in size, culminates at the very back in a huge canvas, with a rather poor caricature of a plain-clothes Callow staring sadly out on the left, opposite an vast empty white space on the right. Essendine is all exterior and no interior - and Callow achieves a mounting melancholy as it becomes clearer and clearer that Essendine's performance has swallowed the identity of its performer. You sense that this sadness of vapidity was as much Coward's as it is Essendine's; the laughter, like Essendine's identity, is one hundred percent presented.
And it's not just Callow either - not a single trick is missed in bringing out these identity implications. The supporting cast handle their parts and Coward's language with real expertise: Tilly Tremayne kicks every laugh into touch as Miss Reed, Lysette Anthony's perfectly overplayed Joanna turns the Act 2 seduction into an overacting match between her and Essendine, and Jessica Turner plays Essendine's 'wife', Liz, the only person settled in her own identity, right up to the hilt.
Callow's own hilarious performance, though, remains the touchstone of the production, and one over-acted every step of the way; whether tremendous restraint from Callow or just inspired casting from Rudman, it provides the centrepiece to a finely detailed, deeply thoughtful and thoroughly enjoyable revival of what usually seems a rather lightweight play.
And, in a brave stroke of programming from Cambridge Arts, we even have the opportunity to set this late Coward against Private Lives earlier in the season; a comparison which only clarifies further the wonders Rudman has worked in investing Present Laughter with such dramatic weight. Brilliantly directed, masterfully performed, and a pleasure to see talents like Callow's in the ever-welcoming Arts. In short, touring productions don't get much better than this.
This production has also been reviewed by Sheila Connor in Guildford and Peter Lathan in Newcastle
Reviewer: Robert William