Pressure
David Haig
Royal Lyceum Theatre Edinburgh and Chichester Festival Theatre
Park Theatre
–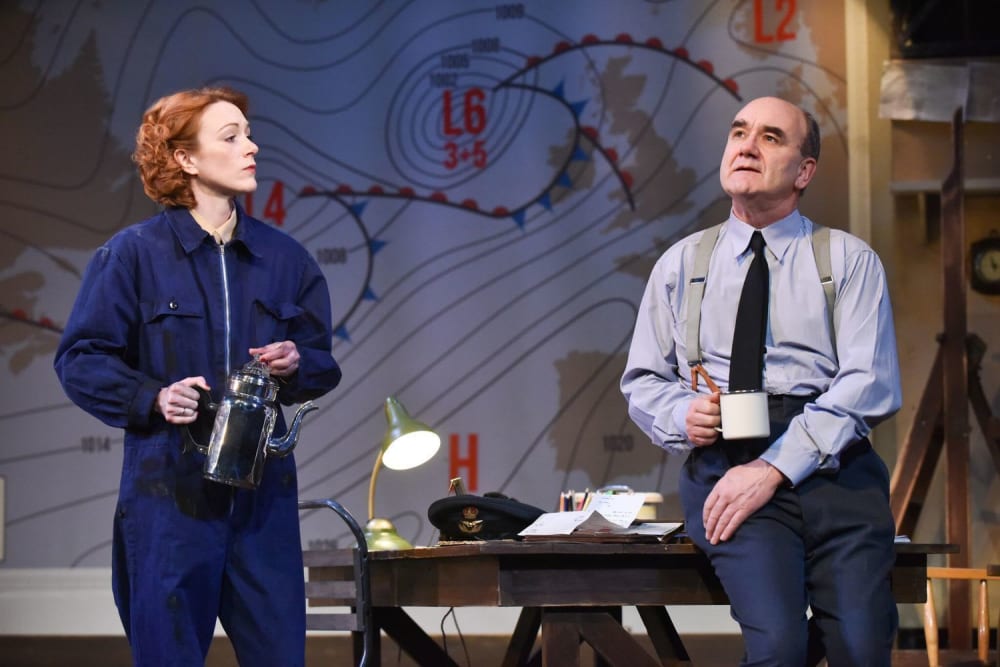 On the day of its opening, the producers behind this surprisingly thrilling wartime drama, which premièred at the Royal Lyceum in Edinburgh four years ago in a co-production with Chichester Festival Theatre, announced that it is heading for the West End.
On the face of it, an old-fashioned, well-made play based on a true story that largely centres on a Scotsman and an American arguing over the weather sounds an unlikely choice for a transfer into town. However, such is David Haig's precocity both as a writer and actor that Pressure should enjoy a successful three-month run at the compact Ambassadors, where it moves in early June.
Haig takes the role of Dr James Stagg, a highly pressurised Scottish meteorologist called in by Malcolm Sinclair's Dwight D Eisenhower (Ike to his "family") to work alongside his American counterpart Irving P Krick played by Philip Cairns in the tense days of early June 1944 when the Allied forces were preparing to cross the English Channel and enter Europe.
Starting 65 hours before the projected date for D-Day, the tension builds nicely as the two weathermen, one using local experience and deep knowledge, the other history and what looks suspiciously like guesswork, tussle like bad-tempered children.
After six weeks of sunshine, Krick is supremely confident that high pressure in the Azores will scare away a series of potentially devastating storms with which we become intimately acquainted, the villainous L5, L6 and L7. His smug American confidence contrasts with Dr Stagg's nervous uncertainty, which is hardly helped by the coincidental timing of the coming to term of his delicate wife's second pregnancy. One of the many types of pressure in addition to the climactic and the personal/political relates to her blood and threatens the lives of mother and child at a time when worried father is unable to leave his post.
While Ike acts as a kind of referee and judge between the warring weathermen, he and the doctor both get great succour from the young but maternal Kay Summersby, the kind of super-efficient support that one needs when sleep is out of the question, let alone time for thought or relaxation.
For almost the whole of the 2½ hours duration, this trio takes centre stage as they agonise over the prospect that a wrong decision could cost 50,000 lives and conceivably extend the War or even change its outcome.
John Dove's direction must give the actors confidence, as he cleverly balances increasing tension with moments of high comedy but also great pathos.
While David Haig has given himself what looks like and is the central role, at times both Malcolm Sinclair and Laura Rogers take their chance to outshine the actor-turned-playwright in an evening where all three are both winning and convincing, even injecting a good deal of humour into what are ultimately a deeply serious few days.
What looked on the surface like very thin material for a satisfying theatrical evening turns out to be equally moving and gripping, guaranteeing a sell-out run at the Park and quite possibly a repeat through the summer in the West End.
Reviewer: Philip Fisher