Pressure Drop
Mick Gordon, with songs by Billy Bragg
Wellcome Collection, Euston Road
(2010)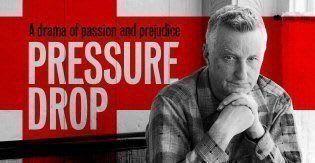 As one of the evening's star attractions, Billy Bragg, says in an unscripted introduction, Pressure Drop is a mix of play, gig and art installation.
While each of these elements points in the same direction, they do not always blend perfectly, although when they are taken together, the two-hour presentation achieves its dual goals of informing and entertaining.
Mick Gordon has woven a script around a series of new Bragg songs with the main intention being to remind the audience of the sinister threat that the BNP presents in East London.
As the General and Local Elections loom, it is perhaps not too surprising that Pressure Drop covers similar ground to Anders Lustgarten's more wide-ranging A Day at the Racists, which has recently finished its run at the Finborough.
The inaugural theatrical production at the Wellcome Collection makes good use of the space, requiring visitors to promenade between four small stages, one of which houses the band, although sight lines are almost inevitably a problem at times.
A family gathers to pay tribute to Ron, an old soldier with an affection for Toots and the Maytals and their greatest hit, Pressure On.
As Ron lies in his coffin (and in the person of Pip Donaghy emerges to chat with family members in turn) his legacy is debated but not nearly as strongly as the perceived problems of Britain today.
This is BNP country, like Bragg's hometown of Barking, where "our" jobs and "our" homes have been taken away by immigrants and it must surely be time to fight back.
The main proponents of this view are Ron's son Jack, a relative weakling played by Michael Gould and his old school pal Anthony. Anyone meeting this hard case, played with magnificently vicious realism by David Kennedy, will wonder how he has escaped prison for so long.
In fact Tony, who swears so much that he cannot complete the word "Bangladesh" without inserting an expletive, has become the self-appointed campaign manager to Jack, who is standing for the BNP in the council election.
Opposition comes in the form of Justin Salinger playing Jack's long lost brother Jonathan. He may come from the same stock but has escaped to a better life in America.
Also fighting to stop Jack is his wife Jacqui (Susan Vidler). She has triple trouble as, in addition to a politicised husband, her mother-in-law June Watson's Joan has dementia and sensitive son George (Shea Davies) gets into trouble through his violent mate, Anthony's son Barney, a chip off the old racist block if ever there was one.
The highlight of the drama is a set-piece in the pub during which Anthony and, less pugnaciously Jack, trot out all of the BNP's greatest hits. They do this in the accepted style, whining about their lot and how every problem has been caused by the Blacks and the Pakis and now the Poles, rather than their own ignorance and laziness.
There is far more to this evening than the play, as a musically mellow Billy Bragg and his band play live in between and under scenes, using new songs to illuminate the plot.
While the family story throws up few major surprises, the acting under the direction of Christopher Haydon is universally strong and the political message comes across loud and clear.
This is complemented by Billy Bragg's songs, including a treat for his now ageing fans as the double encore featured New England and then an a capella Jerusalem, both highly appropriate to the text and the proximity of St George's Day, which also threw up an anecdote from Bragg to end a thought-provoking two hours.
Reviewer: Philip Fisher