Prick Up Your Ears
Simon Bent, inspired by John Lahr's Biography and the Diaries of Joe Orton
Comedy Theatre
(2009)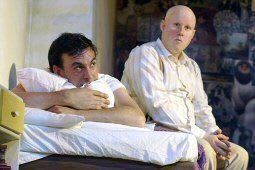 The big draw card in this stage adaptation of episodes from the life of Joe Orton is the popular Little Britain star, Matt Lucas. He plays the ultimate loser Kenneth Halliwell, a man who dreams of greatness but has the talent for nothing better than mediocrity and inventing play titles.
The action takes place in an Islington attic occupied by the anarchic duo who start by writing their own pornographic entries in books filched from the public library.
This harmless fun was seen as anything but in the judgmental 1960s and by the time that 200 entries had been taken into account, landed each in jail for six hard months.
While Chris New's John Orton (the Joe only came later courtesy of arch-agent Peggy Ramsay) laughed off the ignominy and hardship, Simon Bent's take is that it turned the manic depressive Halliwell into a pill-popping nightmare.
His affliction soon manifested itself as over-developed schadenfreude, with every Orton success seeming like an additional blow to already cowed self-esteem. Since Joe moves through a first BBC Radio production to stage success and an Evening Standard Award, Kenneth wound up like an elastic band that would eventually snap.
In Daniel Kramer's production designed by Peter McKintosh, Halliwell's increasing neurosis is measured in additional pills, bouts of uncontrollable shaking and collages that start with three small bedside pictures then gradually take over the tiny flat's walls until they have even pushed the ceiling out of view.
This three-hander is repeatedly stolen by Gwen Taylor as an archetypal Ortonesque landlady, Mrs Corden, who gets all of the best lines and delivers them with deliberately hopeless panache.
The difficulty with this claustrophobic couple of hours plus interval is in distancing Matt Lucas and his well-known persona from the play.
While Chris New persuades you that he is inhabiting the character of Orton with his joys and frustrations and Gwen Taylor does a lovely comic turn, too often however, Lucas, who looks nothing like photos of Halliwell, seems to have flown in from elsewhere, undoubtedly committed but never suggesting why Orton would have fallen for his partner or stayed with him for 15 years.
The actor's best moments are those of abject despair, which begin to justify an ending that every visitor will expect but still comes as something of a shock.
With a book and film readily available, the theatrical incarnation may well have to rely on Lucas devotees to sell out its limited run.
David Chadderton reviewed this production in Salford on its pre-West End tour
Visit our sponsor 1st 4 London Theatre to book tickets for Prick Up Your Ears
Reviewer: Philip Fisher