Pride and Prejudice
Simon Reade
Sheffield Theatres
Crucible Theatre
–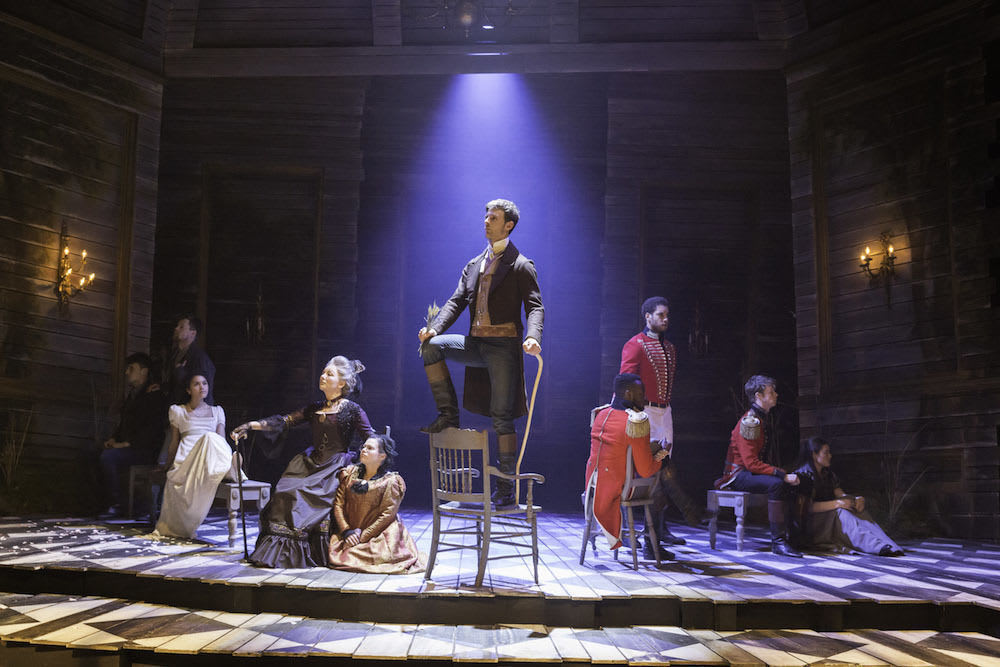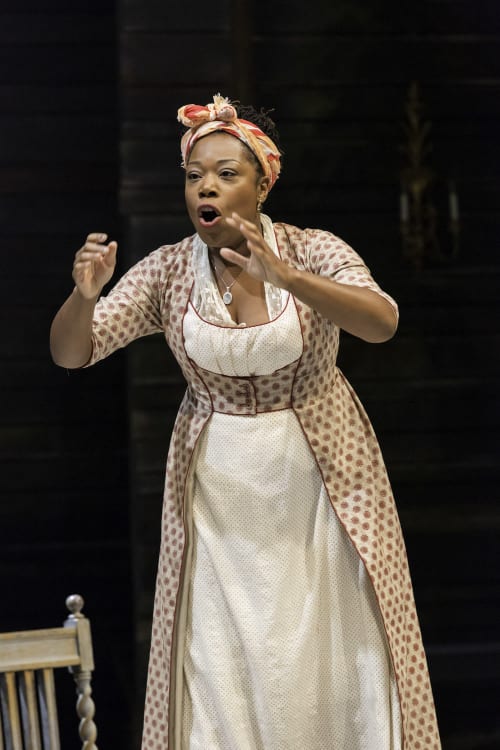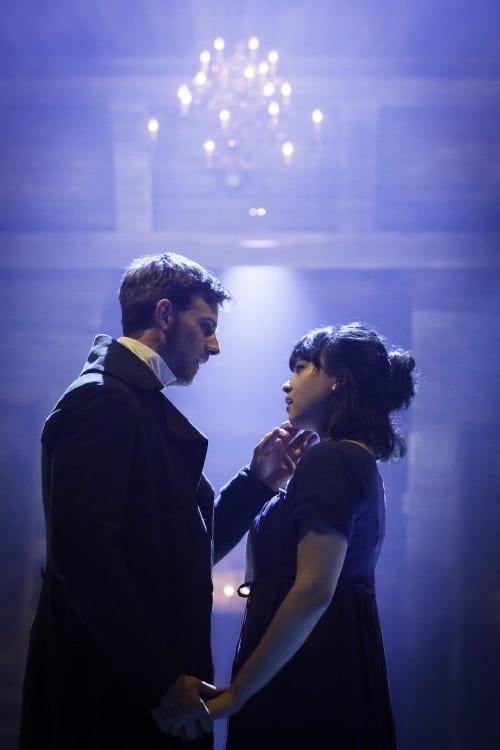 Artistic Director Daniel Evans is quite right to enthuse about including a production in his programme which embraces the current trend, seen in the Manchester Royal Exchange's Anna Karenina and the RNT's Everyman, of providing performance opportunities for under-represented black and ethnic minority actors. This production is 'as notable for its youth as its diversity'.
Simon Reade's adaptation of the novel is impressive. Character and context are faithfully represented by selected, much loved extracts from the text, the plot moves forward swiftly and additional or re-focused material is added in the second half.
Designer Lez Brotherston makes it clear that this is not a pretty frocks and stripey lawns production, as seen in recent, impressive, high budget film and TV presentations of Austen's work, but one which emphasises the universal, more serious, lasting qualities of her novels, like her underlying preoccupation with love in its relation to money and class.
Consequently this might be seen as 'austerity Austen'. While Caroline Bingley and Lady Catherine de Bourgh are elegantly dressed, as becomes their wealth and class, the Bennett girls, apart from sparklingly new white underwear when we catch a glimpse of it, scruff around in dresses that look like hand-me-downs.
This is not to deny the role of humour in the production. This is largely provided by Austen's gift for deflating pretentiousness, either in the dialogue or set-piece scenes, like Collins's ill-judged proposal and inability to take no for an answer.
As Mrs Bennett, Michele Austin gives a splendidly dynamic performance, which fully explores the comic potential of the role, particularly when Mrs Bennett is overcome by her 'nerves'.
As with the costume design which includes men in jeans and side-zipping boots, the performance style of the production hovers somewhere between the early nineteenth century and more contemporary examples.
While Ruby Thomas as Caroline Bingley, and Abigail Mckern as Lady Catherine maintain an erect posture and restrained behaviour at all times regardless of provocation, Isabella Laughland's Elizabeth Bennett is more reminiscent of Bridget Jones in the 2001 film version, flapping gestures and all. Like her creator, Elizabeth Bennett has depths of perception and strongly held values well beyond Bridget's capability.
As well as the large cast drawn from the novel, director Tamara Harvey has swelled her production with a supplementary ensemble of actors to people the ballroom scenes. The large thrust stage at the Crucible comes into its own at this point, and Harvey employs the interesting device of getting her actors to climb up on to convenient tables and chairs for more personal exchanges or letter reading while the general stage action is frozen.
This serves the function of a close-up in cinematic terms, ensures that the speaking actors are visible in the crowd, and makes the action of the play extremely fluid. There is a certain lack of dignity when women in skirts have to scramble on to a higher level, but it is an unusual and acceptable convention.
I was less happy with the physical contact between Elizabeth and Darcy that crept in in the latter part of the play. Darcy stroking Elizabeth's arms, Elizabeth slapping Darcy's face, a public kiss, all unthinkable in an age of public propriety. We are in Bridget Jones territory here.
Scott Ambler's choreography adds an important dimension to the performance and he writes interestingly in the programme about the stylised movement required for this production and the need to 'shift continually between foreground and background' when focus is required on particular actors rather than the whole stage picture.
As well as the actors mentioned above, there are well developed and convincing performances from established actors and from young actors at the beginning of their careers. Adam Buchanan is a lively, confident and very likeable Mr Bingley; Grace Chilton brings out the humour in Mary Bennett's gauche and inappropriate interventions; Leona Allen brings sparkle and a strong sense of identity to the usually rather invisible role of Kitty Bennett.
This is a thoroughly enjoyable production which will reach out to people who love and know Jane Austen well, and is particularly accessible to readers and theatregoers less familiar with her work.
Reviewer: Velda Harris