Pride and Prejudice
Jane Austen, adapted by Simon Reade
Regent's Park Theatre
New Victoria Theatre, Woking
–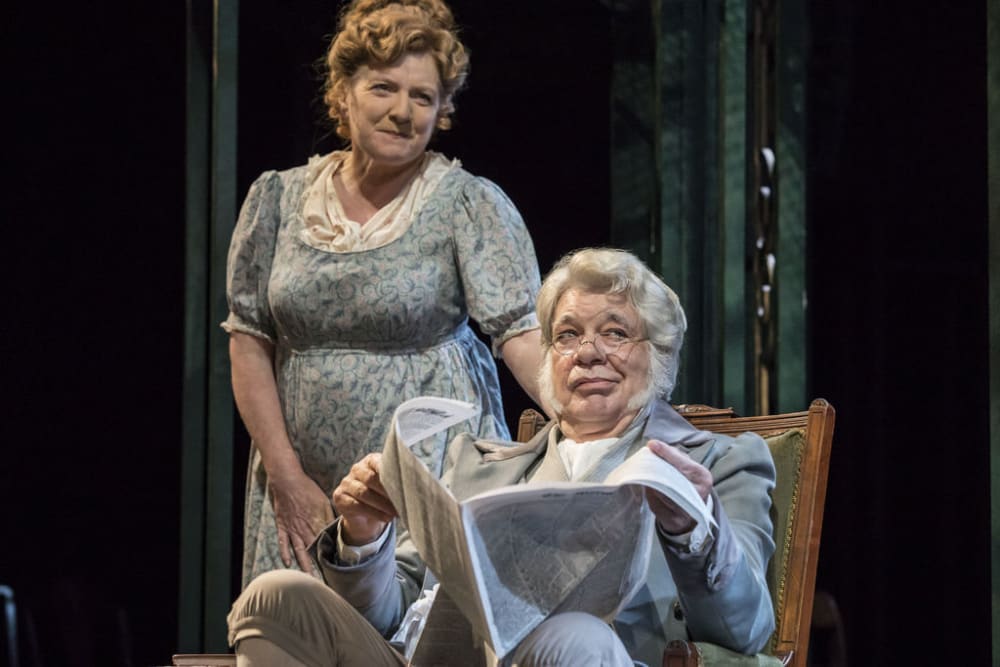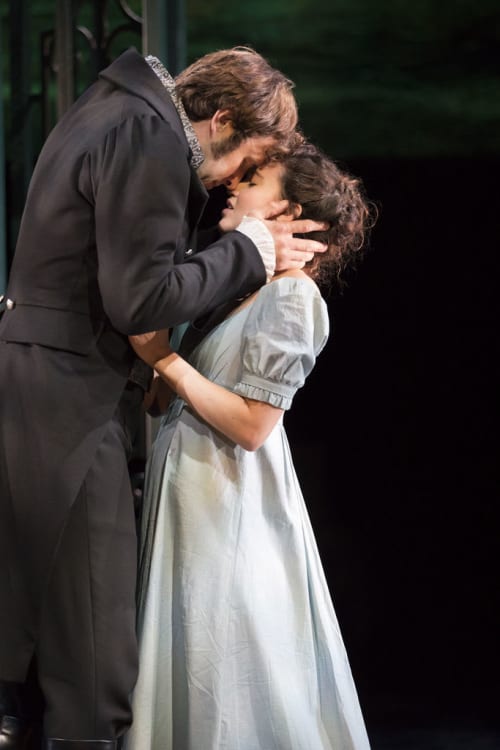 "It is a truth universally acknowledged, that a single man in possession of a good fortune must be in want of a wife." This famous sentence bookends the play and ambitious, socially conscious Mrs Bennet takes the sentiment to heart as she is constantly steering her five daughters towards the single eligible wealthy men who have just moved into the neighbourhood.
Mrs Bennet is the comical element in the story and Felicity Montagu plays her superbly with just enough silliness to make the character very funny but also very believable. Foil to her frivolity is Mathew Kelly's Mr Bennet. Sane, sensible, and fatherly, he is calm amidst all the excitement of wife and daughters, most of whom take after their mother in silliness with only the eldest, Jane and Elizabeth, seemingly in their father's mould.
Between the two sentences, there is a tremendous amount to fit in within the time, and with so very many characters and such a tangle of relationships it needs concentration to keep abreast of it all without at least a little knowledge of the book. Happily, last night's audience were not lacking in concentration. Attentive throughout, and so involved in the story, there was not a murmur, not a cough, and certainly no rustling of sweet papers—plenty of laughter, though, at the comical elements.
This is a play which seems to benefit from a proscenium setting rather than the open air original production, but designer Max Jones has kept the rural venue in the background where Tina MacHugh's lighting of the trees shows the passage of time with changing seasons, and Max Jones's magnificent green and gold wrought iron set, complete with staircase and balcony, smoothly revolves to change each scene.
There is not enough time here to round out all the characters and some of the finer points of the story don't quite come across. Although Benjamin Dilloway is an imposing (and very tall) Mr Darcy, so very ungracious and scowling when first seen, it came as quite a shock to hear him suddenly say "I love you" to Elizabeth with no lead-up to the moment (although, to be fair, it's in the book as unexpected) and narrating his letter to her seemed very rushed.
Kirsty Rider as Caroline Bingley is suitably haughty and sophisticated but her spiteful and scornful attitude to the social status of the Bennet family, and her attempt to prevent her brother marrying into it, is not very evident.
That said, it's still a great story and a terrific production with the whole cast pulling together and finally a satisfied sigh from the audience when, after a contretemps with the deliciously arrogant and autocratic Lady Catherine de Bourgh (Dona Croll), the two lovers come together in a kiss.
There is strong support too from Steven Meo as the overly comical curate Mr Collins and from Daniel Abbott as wickedly handsome Mr Wickham, but I think the highest accolade ought to be accorded to the understudy who, apparently at very short notice, took over the extremely difficult role of Elizabeth Bennet and performed perfectly and with a calm assurance that looked as if she had been playing it all her life.
The few minor flaws in no way spoil the enjoyment of a great play, beautifully presented.
Reviewer: Sheila Connor