Pride and Prejudice* (*sort of)
Isobel Mcarthur after Jane Austen
Tron Theatre Company, the Royal Lyceum Theatre Edinburgh and Blood of the Young with Birmingham Repertory Theatre, Bristol Old Vic, Leeds Playhouse, Northern Stage and Oxford Playhouse
The Lowry, Salford
–

Listing details and ticket info...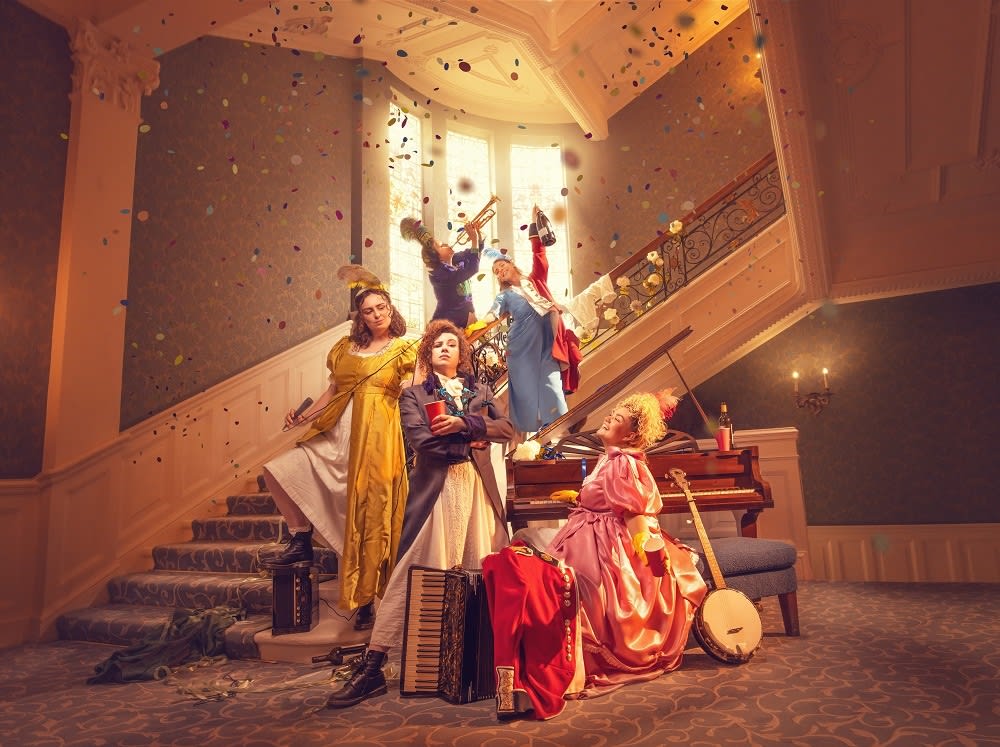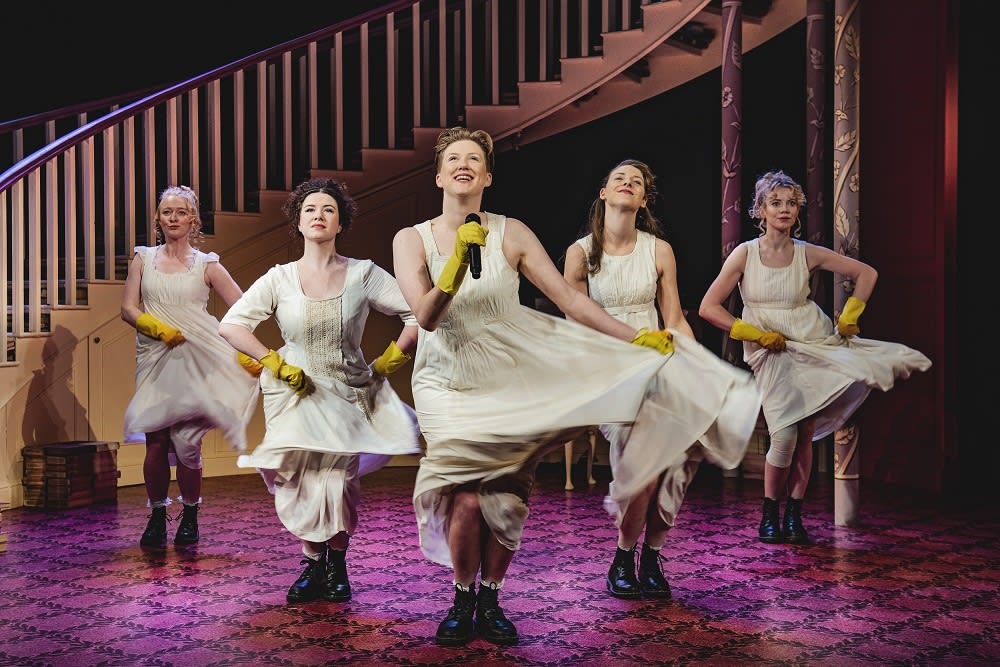 It is a truth, universally acknowledged, that Jane Austen's Pride and Prejudice has formed the basis for a number of modern entertainments. Isobel Mcarthur, author of Pride and Prejudice* (*sort of), argues the original is, at heart, a romcom. She has a point: as staged at The Lowry, Darcy's marriage proposal to Elizabeth, which manages to be both condescending and insulting, is hilarious. While the presentation may appear irreverent, the attitude of the show is respectful.
The *sort of part of the title arises as the servants of the Bennet household, bored by their mundane duties, enact the story of how the highly principled Elizabeth Bennet overcame her prejudices and married Fitzwilliam Darcy, whose pride initially led him to regard her with disdain. Inevitably, the story gets a bit distorted especially as the servants tend to indulge in the occasional burst of karaoke to liven things up.
Author Isobel Mcarthur, who co-directs with Simon Harvey, avoids a theatrical mood and instead favours a stand-up comedy / music hall vibe. As the audience enters, the cast, in character and wearing rubber gloves, wander through the theatre tiding up and expressing satisfaction that all the weird-looking people have been seated at the front of the stage.
This is a show that misses no opportunity to get a laugh. The horse owned by the Bennet household is named 'Willy', hence, Mrs Bennet instructing her daughters to mount or ride Willy. This even leads to a neat visual gag: a full model of a horse suddenly appearing in the middle of Ana Inés Jabares-Pita's vivid stage set of a staircase and bits of furniture.
Accents run from Liverpudlian, through Welsh to full-on Inspector Clouseau: "I have been inside her herm". In-jokes abound, the servants are disappointed Mr Darcy manages to enter his home without first diving into a lake and the 'greatest composer ever' turns out to be Chris de Burgh. It is hard, in view of a recent book, not to see Prince Harry reflected in chinless wonder Mr. Bingley who enters with his arm stuck in a Pringles tube. As the servants are all female, male characters get short shrift—Mr Bennet is no more than an armchair and a newspaper.
Although Pride and Prejudice* (*sort of) is a show with songs, the musical numbers are used sparingly and emphasise plot points rather than propping up a snagging narrative. "Everyday I Write The Book" serves as a reminder of the source material while "You're so Vain" is the perfect introduction to Mr Darcy. Typical of the mood of the show, "Holding Out for a Hero" is interrupted by Mrs Bennet reminding the servants she is holding out for a top-up.
In an excellent cast, Dannie Harris stands out in the dual roles of Mrs Bennet and Mr Darcy. The former, with a fishwife's bawl, is an odd combination of hypochondriac and alcoholic, while the latter is stuck in a bizarre male power stance with affected speech; both characters are hilarious.
Rather than limit the show to anything for a laugh, author Isobel Mcarthur brings nuance to the story with a poignant suggestion Charlotte Lucas is not only gay but carrying an almighty torch for the oblivious Elizabeth.
Pride and Prejudice* (*sort of) may not be for all tastes. During the interminable wait for buses home (Diamond buses, the preferred contractor of mayor Andy Burntout, somehow being even less reliable than Failcoach), some patrons expressed reservations about the salty language. Yet this may be a consequence of the passion and imagination of a fringe production making the leap to mainstream, and broadminded audiences will find the irrepressible show to be a joy.
Reviewer: David Cunningham