Pride & Prejudice* (*Sort Of)
Isobel McArthur after Jane Austen
Tron Theatre Company and Blood of the Young
The Courtyard, Leeds Playhouse
–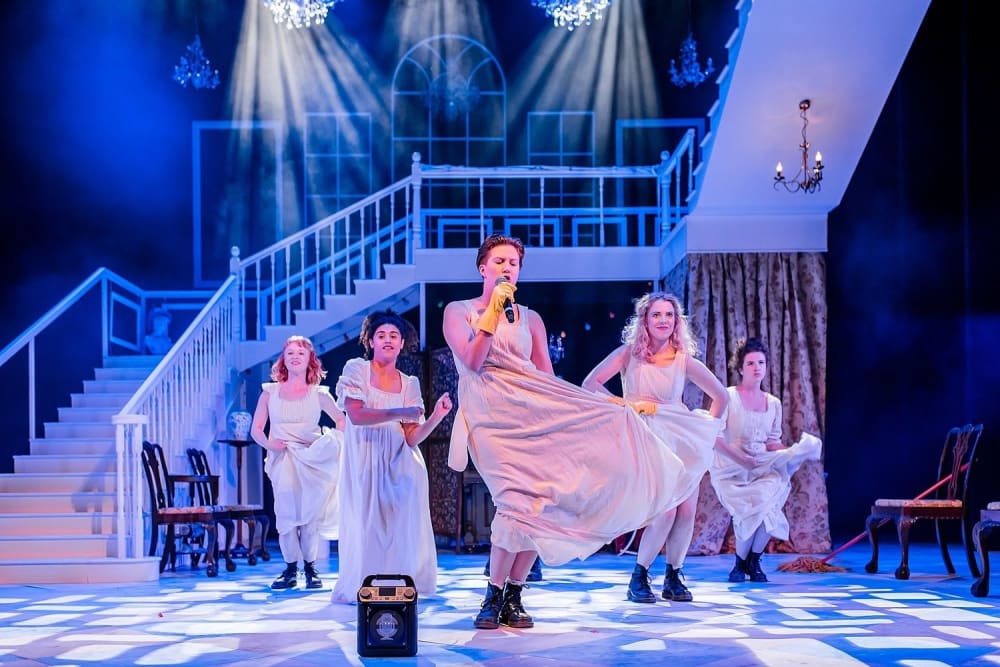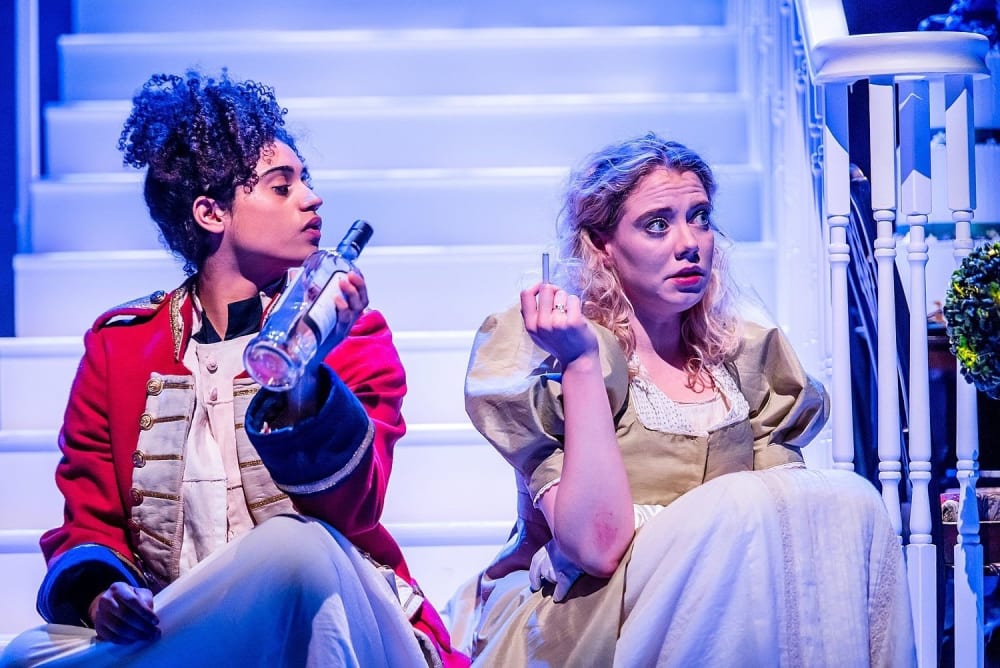 Early in this production, a murmur goes around the audience as aficionados seem unable to help themselves warmly mumbling along to Austen's most famous line. It's evidence of the fusty familiarity of the story's much-loved twists and turns, its larger-than-life women and moody beaux. Once that's out of the way, Isobel McArthur's joyous, sprightly adaptation both courts and subverts the novel's classic status.
The murmur-along-with-Austen moment is quite apt, really, given the karaoke aesthetic in evidence elsewhere. McArthur and director Paul Brotherston have crammed their version with chart-topping love songs of all (recent) eras. The show announces itself with what seemed to me a slightly strained version of Elvis Costello's "Every Day I Write The Book", but soon these backing-tracked classics find their stride. So for instance we get the glorious sight of Jane Bennet (Christina Gordon) belting out Etta James from high atop a horse as she canters over to see new love Charles Bingley (Hannah Jarrett-Scott), and Elizabeth Bennet (Meghan Tyler) being coerced into a duet of "It Takes Two" with an even more reluctant Darcy (Isobel McArthur).
After the parodic Pride and Prejudice and Zombies and Sara Pascoe's somewhat disappointing stage adaptation of the novel a couple of years ago, this finally feels like a well-balanced, modern energising of the story. The cast of six women introduce themselves as the (often nameless or entirely unobserved) domestics who populate the backdrop of many a period piece. Women, they tell us with a wry smile, surely spend all their time on "romance novels and Cinzano"—why should we pay attention to them?
In the absence of their masters' (and mistresses') voices, this gang opt to dress up and tell us the story of Jane Austen's Bennet family. Writer McArthur plays dual roles as both a brooding Highlands Darcy and a barkingly Yorkshire Mrs Bennet, gruffly commanding her daughters to find rich suitors else her husband's inheritance will default to distant cousin Mr Collins (Felixe Forde).
Christina Gordon plays Jane Bennet, who falls instantly and conveniently in love (to the strains of "Will You Still Love Me Tomorrow?") with rich Charles Bingley. This latter role is played by Hannah Jarrett-Scott, who manages to make a gormless upper-class toff seem effortlessly sympathetic; Jarrett-Scott is superb, also, as Charles's sister, a fantastically narcissistic and spiky competitor for Darcy's affections. There's even a third, smaller, turn for the actor, as Charlotte Lucas, the much more restrained and resigned best friend of Lizzie Bennet.
This clarity, strength and variety of performance is characteristic throughout the ensemble. As well as the archetypal lovelorn romantic heroine Jane, Christina Gordon has great fun as Lady Catherine de Burgh (whose signature tune is "Lady in Red", of course, penned by a relative of hers). Gordon is also, like several of the cast, a talented multi-instrumentalist, contributing the best harp rendition of a Pulp song I've ever heard.
Tori Burgess and Felixe Forde mop up a number of the smaller parts, such as those of Mr and Mrs Gardiner and Mary Bennet. Burgess in particular shines—not least as Mary, who is delightfully rehabilitated from her supporting role as the plainest, middle sister.
To say too much more would be to deflate the energy and sheer bonkers fun of wondering what on earth might happen next—which is a huge achievement for a company dealing with such a well-known and canonical text. McArthur's adaptation aims to entertain, to be contemporary without setting out to unpick the problematics of the work: it's brash, loving, and (broadly) faithful rather than forensically deconstructive. There are even a couple of knowing nods to other versions of the story, such as one or two great gags to do with the famous 1990s BBC adaptation (you know, that one with a damp Colin Firth).
Meghan Tyler is an ideal modern Elizabeth Bennet, entirely undemurely striding the stage and perching on furniture. Though she isn't called upon to multi-role as the other performers, hers is a performance of great intelligence, humour and emotion. McArthur's aforementioned twin turns as Darcy and Mrs Bennet are both broad and incredibly nuanced, and she has a well-honed knack for timing and delivery which had me in stitches. One of the most impressive aspects of the adaptation is the sheer variety of ways the cast (and McArthur in particular) find to inflect the instruction to "f*** off".
Oh yes, this is coarse. It's also hilarious, affectionate, skilfully performed, wittily adapted, and huge, huge fun. It's on a tour after its original Tron Theatre production, and even if (like me) you're agnostic on the source material, you're more than likely to get caught up in its dizzy comic charms. Even as someone who's more likely to be found brooding by a bannister than crooning into a microphone, I was almost tempted to join in.
Reviewer: Mark Smith