Pride and Prejudice
Jane Austen, adapted for the stage by Simon Reade
Theatre Royal, Bath, production
Theatre Royal, Newcastle, and touring
(2010)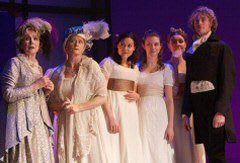 Simon Reade's adaptation of Jane Austen novel, apart from an over-long first half, works very well.
At first the production appears very bleak, being presented on a virtually bare stage, but soon you forgive this as the production picks up pace. The cast carry on any props they need, which includes a very inventive large dining table, complete with table cloth, plates, meals and cutlery. The humour is more evident in the very enjoyable second half, where Carolyn Pickles as Lady de Bourgh steals every scene she appears in.
The play sticks to familiar territory with Mrs Bennet, superbly played by Susan Hampshire, trying to marry off her five daughters. Add in to the mix the dashing Mr Darcy (Nicholas Taylor) and you have all the ingredients to make this adaption work.
The clever touches in the direction mean you cannot help but wait for the next surprise in the staging, which even has the cast turning in to a topiary garden and using the backs of chairs to become an art gallery. While sometimes totally tongue in cheek, theses comic touches never get in the way of the story or interfere with Austen's characters.
This production will satisfy those new to the story, while keeping the traditionalists happy at the same time
Sheila Connor reviewed this production at Chichester
Reviewer: John Dixon