Primo
Antony Sher
RNT Cottesloe
(2004)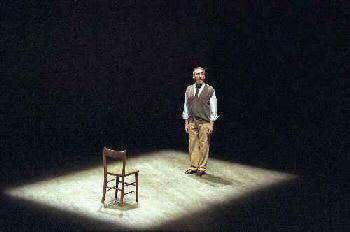 If This is a Man is one of the most shocking and moving books of the twentieth-century. This slice of autobiography tells the tale of the year spent by a young Italian chemist Primo Levi in Auschwitz.
Now with the expert help of director Richard Wilson, Sir Antony Sher has adapted the book into an absolutely absorbing 85 minute monologue. He is greatly assisted in dramatic terms by designer Hildegard Bechtler, Paul Pyant's superbly emotive lighting and a subtle soundscape, partly provided by live cello from Robin Thompson-Clarke.
The book should be compulsory reading, and the play a requirement for every teenager, as a lesson on the horrors of the Holocaust and as a warning as to what can happen in apparently civilised societies. Sadly, many adults are also unaware of events that are no more than sixty years old.
Looking uncannily like the author, Sir Antony's relaxed delivery is in stark contrast to the story that he tells. Covering almost every inch of the Cottesloe's stage space, he relates Levi's life over the period from late 1943 when, as a partisan, he was captured and realised that being a Jew was safer than being a fighter, to the moment at the beginning of 1945, when four Russian horsemen heralded release. Even then, the story is by no means over, as the death of a comrade so close to freedom and Levi's subsequent books and in particular, The Truce, explain.
The brutality and inhumanity of the treatment of the inmates is unbelievable. Cruellest of all are the selections in which the weak and the needy were divided into groups that would never be seen again. As Levi makes clear, there was an element of randomness about the selections that meant that death could summon the wrong person without reason.
What makes Primo worth doing at all is that Sir Antony's adaptation and performance bring freshness to the story. He is greatly assisted in this by the Levi's use of imagery and his realisation that the enormity of the sin is so great that the only way in which it can be understood is by telling individual tales.
While six million deaths cannot be comprehended, a single one, that of Alberto, brings it all home. As the Russians approached the camp, the Nazis evacuated anyone that could walk. Levi was in hospital and remained there while his Italian "twin" Alberto, along with almost everybody else from the camp walked to their deaths.
The are also touching pieces of generosity - indeed Levi's ability to record his experience was primarily due to four different factors: food supplied by a generous fellow Italian called Lorenzo, a kind of pact with Alberto in which everything was shared, his profession, which enabled him to get a job in a laboratory, and lastly, a combination of cussedness and good luck.
Primo is a very fine theatrical piece and it is sad that there will be so few performances during its two-month run at the National, prior to a month in Cape Town. It shows one of our greatest actors at his very best in a role that is historically important.
Reviewer: Philip Fisher