Prince Igor
Music by Alexander Borodin, libretto by Vladimir Stasov
Novaya Opera Moscow
London Coliseum
–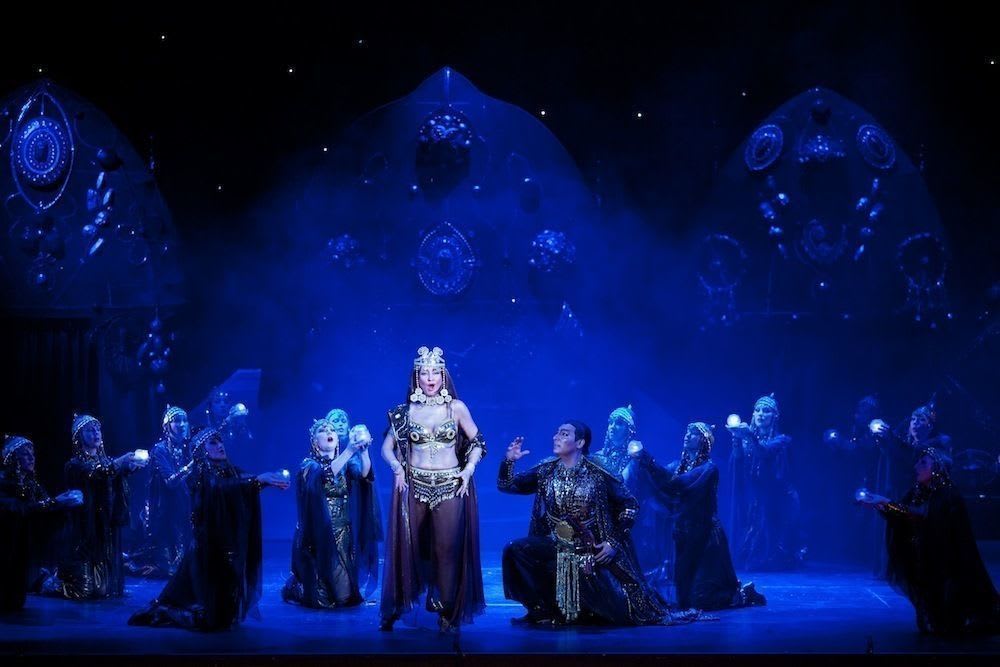 Borodin's Prince Igor comes in variable lengths. The Met in New York recently presented a four-hour plus production. London Coliseum gets a truncated three-hour Prince Igor, sung in mellifluous Russian, from The Kolobov Novaya Opera Theatre of Moscow visiting London for the first time as part of the UK-Russia Year of Culture.
Based on the anonymous late twelfth / early thirteenth century epic prose poem, The Lay of Igor's Campaign (Slovo o Polku Igoreve), which in my day students of Russian had to study in its original, Prince Igor is full of lyricism, paeans to nature, laments over feudal princes' discord, and forebodings for the future.
All this and more (folk melodies and chastushki) Borodin attempted to incorporate into his opera (libretto by Vladimir Stasov), over which he struggled for eighteen years and left unfinished. It was left to his executors Rimsky-Korsakov and Glazunov to finish and arrange.
Presented in an edited two-act form, in a new version by stage director Yuri Alexandrov, who says he wants it to reflect Russia today, its faith, endurance, and its need to atone ("we have forgotten how to repent and acknowledge our mistakes"), Prince Igor opens with gloriously sung praise from the tremendous chorus of townsfolk, rich boyars and their wives, restless ragged peasants, warriors, Orthodox priests and holy fool, in spine-tingling harmony, glory to the princes, glory to Rus.
The noble Igor Svyatoslavich (1151-1202), prince of Novgorod-Seversk, a town on the border between Ukraine and Russia, stood firm against the southern Turkic Kumans / Polovtsy, who regularly raided the region, pillaging and looting. Now he defies ill omen and sets off on a campaign to drive them away again, and suffers a mighty defeat.
He leaves his people in the hands of his wife Yaroslavna's debauched brother Prince of Galich—bass Evgeny Stavinsky in fine form. While he's away women are violated, men get drunk, the two deserters Skula and Yeroshka (baritone Anatoly Grigoriev and tenor Maksim Ostroukhov) providing comment and comedy.
Yaroslavna (soprano Elena Popovskaya) takes refuge in a convent, where the busy black-clad hunchbacked nuns come straight from a gothic tale. All she can do is wait for Igor's return and plead fruitlessly with her brother. No wonder the city is easy to take.
Igor (bass Sergey Artamonov) and his son Vladimir (tenor Aleksey Tatarintsev) are taken prisoner by the Polovtsian Khan Konchak (bass Vladimir Kudashev). Vladimir falls for the Khan's daughter Konchakovna (mezzo Agunda Kulaeva), but Igor escapes, and the opera ends with a plea for unity amongst the princes to take on the enemy. The mighty chorus waits for him to lead them again to a new dawn for Holy Russia.
Patriotism, love, betrayal, debauchery and carousing, and memorable music, but Prince Igor is not often performed in the West, apart from concert suites and the exciting pounding Polovtsian Dances. It premièred at the Mariinsky Theatre St Petersburg in 1890 and at the Theatre Royal Drury Lane in 1914.
So, anticipation was high, and its chorus prologue promised of riches to come, but they came sporadically and heavy laden with too much Klingon bling, and the Dances reduced to too much Oriental 'Carry On' business. Not dance at all, but writhing female slaves and eunuchs / mummers and goodness knows what—a headless corpse dragged across the stage and heads on sticks.
The Kolobov Novaya Opera Theatre has brought 21 soloists (there will be an alternating of roles) and 57 in the chorus with them. The sound they make is powerful, sonorous, lyrical, but acting and movement skills are minimal. They are still of the stand and deliver variety.
Vladimir Kudashev's Konchak in particular epitomizes this style. Planting himself feet astride front centre stage he sings in his powerful bass of his admiration for Igor's bravery to the audience with nary a glance at Igor.
Sergey Artamonov is a sympathetic Igor, no bling for him, but grey chainmail and rags. In fact the three basses (with the chorus) are the reason for enduring the strangely kitsch set and over the top Polovtsian costumes from lauded designer Vyacheslav Okunev.
Aleksey Tatarintsev has a lovely light tenor voice, but one worries for his slight frame when mighty 'Rhinemaiden' mezzo Agunda Kulaeva bestrides him in erotic foreplay.
Elena Popovskaya's second act lament—in front of a grey scrim—is almost undermined by some noisy contretemps backstage, and by strange female spectres squirming in agony behind the gauze.
The denouement comes surprisingly quickly. No marriage of Vladimir to Konchakovna, or discussion between father and son. Igor just appears before Yaroslavna, his and her hair grey-streaked to denote passage of time.
Conducted by Jan Latham-Koenig, principal conductor and head of artistic direction of Novaya Opera (New Opera), founded in 1991 by the late Evgeny Kolobov, the orchestra plays with enough power to bring the roof down.
Reviewer: Vera Liber