The Prisoner of Windsor
Justin Butcher
Leicester Square Theatre
(2011)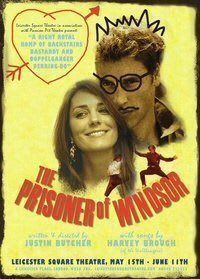 At his best, Justin Butcher has a fine satirical wit and the ability to create laughter-packed evenings by poking fun at figures in authority.
However, some effort is required in order to hit the right note. In this particular case, it looks as if the writer/director assumed that it would be easy to build a comedy around the recent royal nuptials, without actually doing any groundwork.
The Prisoner of Windsor therefore feels like a promising first version of a half-hour sitcom painfully extended to two elongated hours with long periods that barely induce a titter.
The characters are all there. Our own dear Queen (played by man) and a hirsute Duke of Edinburgh sound-alike, the new Duke and Duchess of Cambridge, The Archbishop of Canterbury and Geoffrey Rush plus a team of royal gardeners of dubious Eastern European and African provenance.
The main joke centres on the groom to be. Poor Little Willie (John Sheerman) develops a stammer, which means that he is unlikely to be able to satisfy the demands of his future wife (Philippa Peak). This is where Rush (Rupert Mason) comes in to help poor Bertie (sic).
At the same time, the palace gardeners start to revolt under the leadership of Romanian Romulus (Nick Malinkowski). Somewhere along the way, future King and drug-pushing gardener swap over and all live happily ever after.
A superb thirty second epilogue shows us what we have missed through so much of the previous couple of hours during which, despite showing odd flashes of the subversion that made the George Dubya Trilogy such a delight, laughs are few and far between.
One can only hope that Justin Butcher will have a more critical look at The Prisoner of Windsor with a view to turning it into a finished product that this subject matter could surely support.
Reviewer: Philip Fisher