Private Lives
Noël Coward
Library Theatre, Manchester
(2007)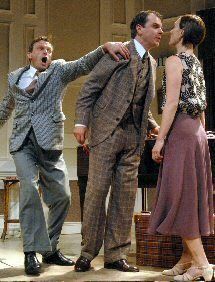 Artistic director Chris Honer directs Noël Coward's classic 1930 comedy Private Lives for the first production in the Library's new season.
Elyot and Sybil have just married and are just beginning their honeymoon in a hotel in France, but the spectre of Elyot's previous marriage to Amanda still haunts them. As they prepare to go down for dinner, who should happen to appear not just in the same hotel but in the next room that shares a balcony but Amanda, who is also honeymooning with her new husband Victor. The question is, will they rekindle their previous passion or resume their extremely violent arguments?
Although the play is obviously still set around 1930, there is no attempt at stagey upper-class accents of the period, so the dialogue and the humour feel very modern and accessible. For most of the time, the play zips along at just the right pace with some great comic timing from all of the performers.
James Wallace is great as the acid-tongued, cynical Elyot, with excellent support from Phillipa Peak as Amanda with a scathing wit to match her ex. Isla Carter is the dizzy, weepy Sybil and Philip Rham is the blustering Victor, both creating nice characters that are obviously inappropriate for their new spouses, and there is a nice little performance from Margo Courtemanche as the grumpy French maid towards the end.
In Dawn Allsop's design, the stage becomes a light and spacious, semi-circular hotel balcony for the first act and then is transformed into a large living room in Amanda's Paris flat during the interval. The domestic fights, staged by Renny Krupinski, are very both shocking and funny, and are much more violent and realistic than anything in Henry V at the Exchange. The ending accelerates to breakneck speed and rises to a very high pitch—literally, in terms of Carter's voice—to give a very funny and satisfying ending.
The Library's opening production of the season is just pure entertainment well produced. Director Chris Honer has managed to make an old play—and a comedy at that—feel fresh and modern without taking away anything that made it great in the first place.
Reviewer: David Chadderton