Private Lives
Noël Coward
Music Box Theatre, New York
(2011)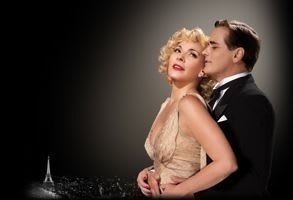 Following its success in London early in 2010, Sir Richard Eyre's delicious revival of Private Lives has transferred across to Broadway, where the play was first seen 80 years ago with Noël Coward and Gertie Lawrence reprising their London roles.
Kim Cattrall continues to have a whale of a time as Amanda, but now Matthew Macfadyen has given way as Elyot to the leading lady's fellow Canadian, Paul Gross and a slight change in emphasis.
Gross seems impeccably English with an air of louche laziness that gives way to cool vindictiveness when he cannot get his own way. However, in this incarnation, Elyot always seems as concerned about his gorgeous appearance as anything else, wafting through the performance without a hair out of place—unless he wants it to be.
The opening scene on a pair of bosky hotel balconies in Deauville is funnier than ever, reminding audiences that Coward was a genius when it came to reproducing upper class English manners and speech patterns then making fun of them.
The story, for anyone that does not know, sees Elyot and Amanda with new spouses five years after a disastrous attempt at marriage together.
Their simultaneous honeymoons happen to take place next door to each other. This causes problems for their new wife and husband respectively, as the older couple are overcome with passion and take up where they had left off.
This leaves Simon Paisley Day's delightfully starchy Victor and Sybil, given a little girl lost persona by new cast member Anna Madeley replacing Lisa Dillon, mutually to fume and despair.
One of the delights of this production is the opportunity that it gives this pair to show off their talents and both make the most of it.
The suave sophistication gives way to something much hotter under the collar in Act 2 when Elyot and Amanda arrive in a glorious, Rob Howell-designed Paris. This is semi-circular with murals of ducks and fishes and amongst other art deco adornments boasts a three-story goldfish bowl that becomes a significant player.
Now, love and warfare vie for supremacy. The passion looks real, even from the third row, while the battles are at times pretty terrifying as the pair try to decide whether they should spend their lives together or as far apart as the world will permit.
The arrival of Sybil and Victor ensures a hilarious final act, as this duo begins to get in on the fighting as much as the loving.
Private Lives is just as effective on Broadway as it was at the Vaudeville Theatre in London and no doubt Toronto in between. The look is still stunning and the acting from all four members of the newly constituted cast all that one could wish for.
Sadly, despite the pleasure apparent from everyone in a full house, it is not destined to enjoy a stay on Broadway of the length that it deserves, having posted notices announcing closure within a couple of months of its arrival.
Reviewer: Philip Fisher