Private Lives
Noël Coward
Salisbury Playhouse
(2010)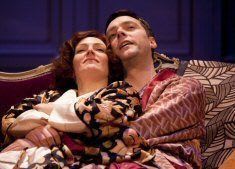 Amidst the gloom of a misty Salisbury, cocktail glasses clink as Colin Falconer's chic art-deco setting transforms the Playhouse stage into sunny Deauville.
Suddenly all thoughts of winter are gone and Philip Wilson's stylish production of Noël Coward's classic comedy of manners Private Lives is transporting us into that world of sheer escapism that is the Master at his best.
Of course, Coward is never to be taken at face value. Many a critic with a higher profile than this one has dismissed his work as superficial only to discover that the biting sub-text had confounded them before their piece was published.
Here again, Coward is allowing us a privileged glimpse of the beautiful people as they really were - and many of his contemporaries hated him for the exposure - if, that is, they were sharp enough to spot it!
Nicholas Boulton is a splendidly crisp, urbane Elyot. I missed the white sharkskin - but then I don't suppose Moss Brothers do those any more.
As his second wife Sybil, Sophie Roberts is a nice study in brooding petulance with Simon Harrison's Victor bristling with noble pomposity.
Amanda, Elyot's unforgettable first wife, in Susie Trayling's hands, simply oozes class and accomplishment. Here is a character as close as any to the expectations laid down by the great Gertrude Lawrence whose bravura remains to this day all over this role. This, let us face it, is the secret of the work: you don't play 'Elyot and Amanda' you recreate Noël and Gertie.
Charlotte Longfield, so excellent here in The Winslow Boy, appears somewhat subdued as the maid Louise. Coward, we recall, gave as much thought to these charaters as to any - and there is room for expansion.
That said, the pace of this production, though far from slothful this week, also has room for development, albeit the packed house, with more lined up at the box office, are so involved as to cheer at the final curtain.
For me, however, the lasting memory is of sentimental music, "Someday I'll Find You" written for Gertrude Lawrence, and a handful of other Coward melodies for good measure.
But then, "You always had a sweet voice, Amanda".
"Private Lives" continues at The Playhouse until Saturday 20th February
Reviewer: Kevin Catchpole