Pub Rock
Created by Cartoon de Salvo
Lyric, Hammersmith
(2010)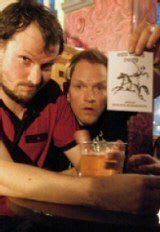 Few companies can have had more fun in creating a piece of theatre than this one. Cartoon de Salvo clearly enjoy playing rock music, so building a site-specific musical comedy around their leisure activity must have been a dream come true. If nothing else, with the assistance of the Lyric Hammersmith, the pub rockers are guaranteed a stream of full houses.
Pub Rock takes place above the Hop Pole just over the road from the theatre. That makes for a slow start, as the audience is shepherded across King Street, then upstairs and by the time that they have been allowed to buy drinks, the opening was delayed for not far short of half an hour.
Eventually, the four-piece One Trick Pony led off with Mustang Sally and Van Morrison's Brown Eyed Girl. For the best part of an hour, as they trotted out covers of hits primarily from the 70s and 80s, peaking with the Scottish pairing of Kayleigh and I'm Gonna Be (500 Miles), we could have been watching the kind of amateur band that plays to mildly enthusiastic audiences in pubs up and down the country on any given Friday night.
That is only part of the reason for our presence. Gradually, the concert is subverted, initially when lead guitarist Richie's guitar is literally silenced, much to the frustration and chagrin of Neil Haigh's overly-sensitive character.
Richie then goes into battle with his comrades over the right to play his own compositions, a hilariously tortured mix of heavy metal and ambient, with howling dog vocals.
The drama had begun and, by the end, the band had imploded with suitable humour and the odd moment of real sadness. Like all good theatre, Pub Rock eventually becomes a study of character and not just Richie's.
Scot Matthew, played by sometime Guardian theatre critic Brian Logan, eyes up the girls and struts like a poor man's peacock or possibly Ant (Adam).
Ironically, deafeningly talented drummer Tai Lawrence's Jez is a quiet man, trying ineffectually to hold the band together but never really seeming to care.
The best performer is Artistic Director/bass guitarist Alex Murdoch as Hayley, who moves from happy through disbelieving to concern, depression and distress.
By the time we get to The Final Countdown and Rocking All Over the World, after twenty mediocre years, One Trick Pony is no longer.
The comedy may sometimes be a little limp and the drama needs the cover of the music but taken as a whole, Pub Rock offers a rocking good night out.
Reviewer: Philip Fisher