Puckoon
Dramatised by Vincent Higgins by from the book by Spike Milligan and adapted by the company; music and songs by Paul Boyd
Big Telly Theatre Company
Leicester Square Theatre
(2011)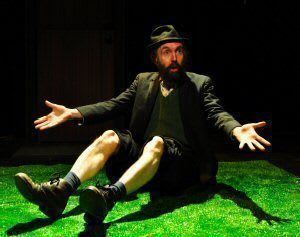 They say there is a thin line between insanity and genius and Big Telly's adaptation of Spike Milligan's novel Puckoon demonstrates how very thin that line is, and how very easy it is to jump back and forth across that line with a silly grin on one's face.
Set in 1922, the Boundary Commission inadvertently divide the small village of Puckoon in their haste to get to the pub. This leaves Catholics buried in the now English part of the churchyard requiring passports for the duration of their stay, and the ensuing plan to repatriate them is also an opportunity for two inept IRA men to smuggle explosives across the border in coffins - oh yes, and beer is cheaper in the corner of the pub which falls on the other side of the line.
In this string of absurd comedy sketches, through which emerges a sharp satirical swipe at Partition, there are boy scouts performing Julius Caesar, a singing Chinese police officer, a lazy Irishman, a corrupt priest and a Hasidic village doctor. Take heed though - Milligan once said, "I'm not racist. I hate everybody", so it doesn't stop there and there is also a lisping Orangeman who spits out dentures, Murphy's face that looks like one of his own potatoes and something to do with midget's widow.
This very ridiculous concoction wears its Goon Show credentials on its sleeve and the cast of six deliver the anarchy with great energy. Most of the cast play instruments as well as taking on upward of six characters sometimes playing more than one in a scene. Glen Kinch is spot on as he darts from being Dr Goldstein on one side of the stage to the British officer on the other making it all look so easy, whilst Bryan Quinn's split second transition in and out of the Mrs O'Toole character is comically brilliant.
John O'Mahony is a natural as the priest who could have come off the set of Father Ted and Russell Morton has us in stitches as the singing Chinese policeman. The story, if you can call it that, is held together by narration from The Writer, played with frustrated deadpan by Paul Boyd, and Jack Walsh as the feckless Dan Milligan who wants to have better legs written into the play, both of whom are very funny indeed.
Director Zoe Seaton keeps the pace up, essential when delivering madcap comedy like this which will appeal to Goon fans as well as lovers of absurdist humour and anyone who hasn't lost the joy of untrammelled silliness.
"Puckoon" plays until 27 March
Reviewer: Sandra Giorgetti