Pure Gold
Michael Bhim
A Talawa-Soho Theatre co-production
Soho Theatre
(2007)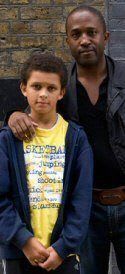 This co-production between leading Black Theatre specialists Talawa and Soho represents a missed opportunity. Even today, the London theatre scene rarely sees new work by Black playwrights addressing issues that matter to their community.
In setting Pure Gold in a Deptford high rise occupied by unemployed Simon, his wife Marsha who gave up her studies to support the family, and their intelligent 12 year old who shows every sign of rising out of the inherited poverty, Michael Bhim made a great start. The set designed by Mike Britton, with its backdrop of the city skyline, illuminated at night, is also attractive.
Clarence Smith's Simon is a man who proudly wears piles of chips on his shoulders. He has lost his job as a bus driver having been worn down by racial slurs that still seem far too common. Rather than looking for honest employment, he prefers the promises of his cousin Paul, played with gusto by Mark Monero.
This wide boy ex-con drives a Porsche and anyone but a complete mug would guess that his flashy wealth comes from other sources than a mini cab business.
By the time that the oily and aggressive Irishman Samuel makes a brief appearance, the prospect of untold riches seduce the Walter Mitty-like Simon, who has made a series of outrageous birthday present promises to his son, Anthony. This is part of a tug of war that his parents fight over the boy, played convincingly by Louis Ekoku.
The impressive Golda Rosheuvel as Marsha genuinely loves and worries about both of her men, preferring honesty to Simon's fantasies of instant wealth. Their strained relationship is hardly helped by her antipathy towards big-talking Paul. She is happier helping the old White next door neighbour (a less than fluent Dr Legg from EastEnders, Leonard Fenton) with food that the family can ill afford to spare.
After the interval, there is a ridiculous about-turn as the two leads inexplicably swap characters so that Marsha is charmed by Paul, while Simon becomes pally with the old man. He then impotently fights Paul after trying ineffectually to give up his job, which turns out to involve smuggling people into the country.
With its lack of psychological insight and heavily contrived plotting, Pure Gold fatally weakens some interesting underlying messages about life in South East London today. Director Indhu Rubasingham might well have attempted to introduce a more consistent characterisation, which in turn would have helped some of the actors to hit top form.
Reviewer: Philip Fisher