PUSH – Sylvie Guillem and Russell Maliphant
Choreography by Russell Maliphant
Sadler's Wells Production
London Coliseum
–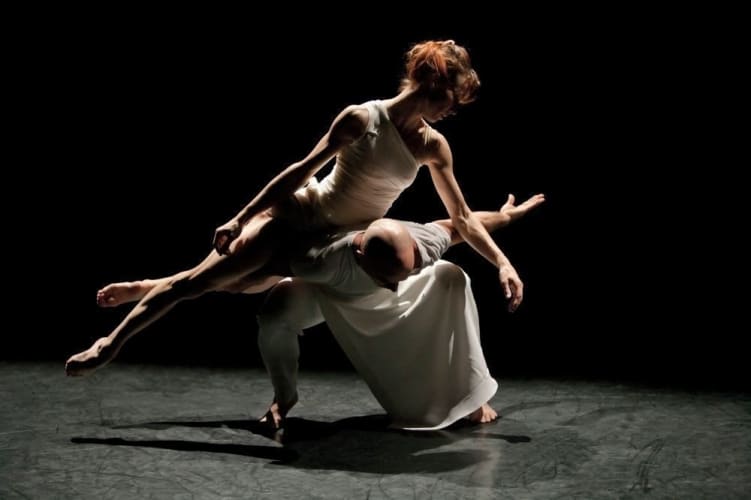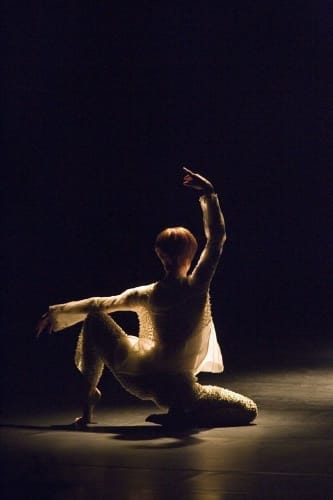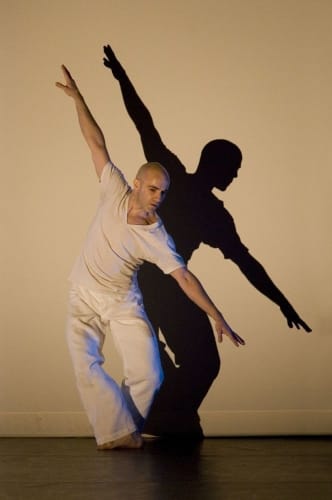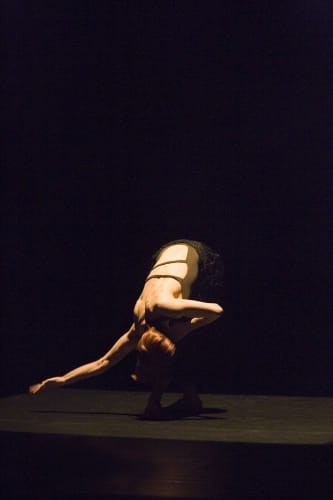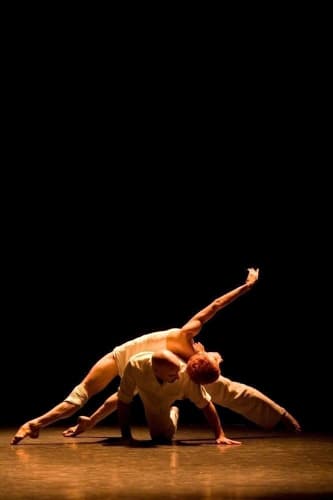 Three short solos and a half-hour duet—mesmerizing, unhurried, serene—unfolding in beautifully controlled calligraphy reaching deep into the psyche. Time is on hold, senses tingle, the spirit conjoins the dance.
Movement so refined, bodies imprinting time and space, true to their rhythms and inner pulse, propelled by irresistible sounds, framed by painterly lighting—is artistry at its most profound.
Performed by étoile Sylvie Guillem, long, lean and lithe, a gymnast seduced by classical ballet, and Royal Ballet trained Russell Maliphant seduced by martial arts, two bodies so very different yet so in tune with each other, PUSH's unique vocabulary simply takes the breath away. And wins a standing ovation.
No wonder they are still performing and touring PUSH worldwide nine years since its creation. Guillem (49) seems to have inspired Maliphant to perform his own choreography at an age (53) he thought he would be hanging up his dancing shoes.
He says: "we do ask ourselves how much longer we are going to keep on performing Push. I don't imagine we'll be doing it when we're 60. But we don't seem to have reached the end point yet."
She says: "it's in my body, so every time we do it again it feels like yesterday. But it carries on evolving with us, we react to each other a little bit differently each time. It's such a pleasure to perform, and people still respond very strongly to it. I think they see it as a very simple but poetic portrait of beauty, love and communion between two people." (Guardian 16 July 2014).
The first eight-minute Guillem Solo to Carlos Montoya's astonishing guitar, Michael Hulls's dramatic lighting picking out snapshots of flamenco and matador inflected proud moves, has the female and the male represented in one strong woman, true to her personality.
Folkdance wrist flicks, knee spins, spiral twists, erect poses, arabesques on perfectly arched feet, on the beat and off, in Ha Van-Volika's boucléd sheer white trouser suit, Guillem is a commanding presence.
In inseparable partnership with Hulls, lighting not merely an enhancer but an integral mover, Maliphant's thirteen-minute solo, Shift, is about shifting weight and shadow-play.
From perfectly placed fifth and fourth crossed positions Maliphant shifts into flowing t'ai chi, which is all about the transference of weight, balance and power.
His shadow dances behind him, another joins in, larger, at an angle—clever lighting. Perspective and illusion—his spectral form weaves in and out of the back panels—now you see it, now you don't.
Shirley Thompson's music wills his simple moves. Shoulders flex, arms fluid, body supple—as much an instrument as the sonorous cello. A body honed by various disciplines—powerful arm stands and knee turns, on solid kung fu ground, a Shaolin monk, with memories of a former life.
Ten-minute Two needs no introduction—the Coliseum saw it in 2009, and this June Carys Staton took it on at Sadler's Wells in Maliphant's Still Current programme. You can find it on YouTube. And it still makes for gripping viewing.
Black on black, Hulls's lighting delineates and highlights every move and muscle, every flicker and flick.
Hypnotic moves and hypnotic sounds: Andy Cowton's music propels the drama of a serpent sphinx bounded in a nutshell and yet counting herself a monarch of infinite space.
Trapped in a square of light Guillem's sensual coordination and composure grows with each musical phrase. The tempo rises and so does the temperature—from prisoner to priestess and warrior queen. This woman knows no impediments.
After the interval comes the duet Push. Long, arduous, and satisfying. Creator choreographer carries his enigmatic sovereign lady on his shoulders like Cleopatra or the Queen of Sheba.
And Andy Cowton's music reinforces that image—epic, biblical, both grandiloquent and eloquent. She flows down his back, drapes his shoulders like a shawl, in lifts you've never seen before.
Fused Indian statues of gods and goddesses in congress, St Christopher with Christ on his back, pietà cradle holds, two bodies intertwined, inseparable, as one.
Contact work, counter balance and counter tension, this is a dance of equals. Counter tension in the music too: percussion vying with strings.
Weight-bearing and weight-shifting, ballet and martial arts competing, yin and yang, she flies on his back, he keeps her close, the melding of two agile talents in chapters of light.
An astonishing relationship is played out. Intense, triumphant, cathedral lighting casting long lines, both are in total control. 'Capoeira' challenges, they push each other on. But trust is an equal partner too.
It is no surprise to read that since its debut in 2005, PUSH has received four major awards: an Olivier Award, a Time Out Award, Best Choreography (Modern) at the National Dance Awards and the South Bank Show Dance Award.
Reviewer: Vera Liber