Pussy Riot: Riot Days

Pussy Riot
Summerhall
–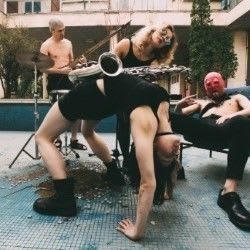 Although it is listed under the Music section in the Fringe programme, Riot Days could as easily have been categorised as a theatrical performance.
It might be staged as a punk rock concert and feature a vibrant musical quartet but the story that the band relates in terrifyingly vivid fashion is coherent and politically important. So much so that two of the performers struggled to make it to the UK thanks to visa difficulties, one leaving Russia the other attempting to enter the UK.
In 2012, as a protest against Vladimir Putin's increasing power and oppressive actions, a group of young women centring around punk band Pussy Riot staged a protest in a Russian Orthodox Cathedral.
While this shocked the local parishioners, the reaction from the authorities will seem excessive to anybody in the West.
The band members were imprisoned for two years and sent off to a gulag where, despite behaving perfectly reasonably given the lack of respect for the government, they seemed to spend a great deal of time in solitary confinement.
This performance, which lasts for around an hour, features jerky phone videos depicting the history from start to finish and has a live punk rock backing track as well as a handful of songs.
For anyone who is interested in learning more about the background to the Pussy Riot Affair and seeing in graphic terms what actually happened, this show will prove vital viewing, although it is unlikely to go down well with President Putin or his allies.
Reviewer: Philip Fisher