Quartermaine's Terms
Simon Gray
Wyndham's Theatre
–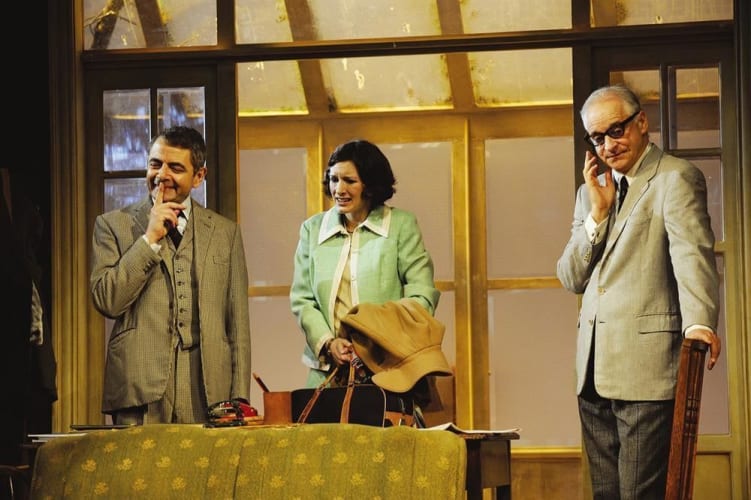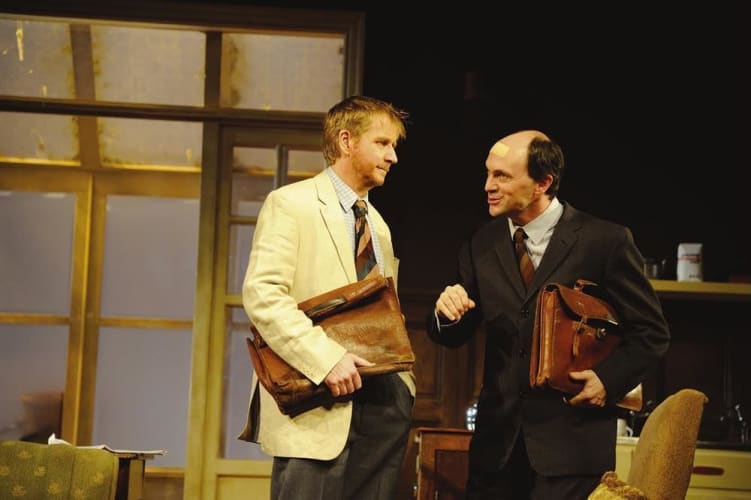 So many of Simon Gray's plays seem to have been set in and around the world of academe. The difference with Quartermaine's Terms, first seen in 1981 but set two decades earlier, is the educational institution.
While this college might be located in Cambridge, rather than part of the world-renowned University peopled by eccentric Dons, this is a language college with its own particular problems, albeit packed with its own set of well-bred eccentrics.
Rowan Atkinson is the big draw in the title role. St John Quartermaine may sound like some knight of old but is actually that stock Atkinson character, an ultimate duffer who reflects the microcosm of society that he inhabits across a period of around three years.
This misfit is not so much from another age, like his colleagues in Sir Richard Eyre's carefully crafted period production, as another planet.
The one word that could best sum him up is oblivious. Strangely, this can be comforting for those who circle around him living their own seesaw lives, while his is empty almost to the extent of non-existence.
This comedy of manners and character perceptively pokes gentle fun at a number of types.
The impecunious part-timer, Derek played with great wit by Will Keen, is accident prone to a degree rarely seen in real life.
Love never runs smoothly in this world. Aspiring author Matthew Cottle as Mark is deserted by a wife and child, whom he barely notices, Louise Ford playing lovely Anita suffers serial abortions while living with a literary love rat, while solid, happily married Henry played by Conleth Hill is pursued by another stock figure, the loner.
In his case, it is Felicity Montagu's Melanie who tirelessly looks after her crippled, ungrateful mother and gets some of the best laughs of the evening in what ought to be a tragic situation.
That just leaves the joint college principals, the ailing Eddie played with innocent glee by Malcolm Sinclair and the more worldly (someone has to be) Thomas, whom we never see but has great influence over proceedings from start to finish even, it might be suggested, from the grave.
This group ebbs and flows through disasters galore and even the odd high point, across four acts and 2½ hours.
While it seems that nothing really happens, Simon Gray can be a subtle writer telling his audiences a great deal about human foibles, while generating considerable humour along the way.
The past may be another country but this one tells us a great deal about our own.
It helps to have a starry set of actors, with Rowan Atkinson delivering the expected performance and peaking in Quartermaine's single moment of pathos right at the end. He is complemented by the whole cast with Will Keen, Malcolm Sinclair and Conleth Hill all shining.
With Atkinson making a rare stage visit in the lead, this limited run of a highly polished production should have what it takes to be a commercial success.
Reviewer: Philip Fisher