Quietly
Owen McCafferty
Abbey Theatre, Dublin
Traverse Theatre
–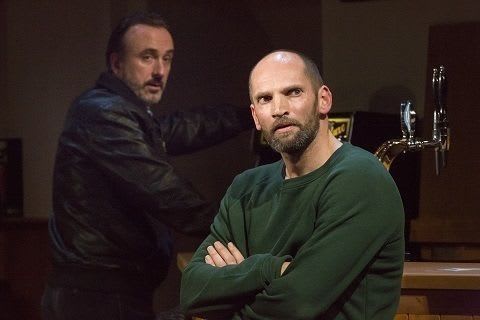 In Edinburgh, it is all too easy to have a temporary judgement by-pass, assuming that relatively mediocre pieces are works of genius.
Therefore, it is really helpful to find plays like Quietly, which are so good that they act as a reminder of why we all go to the theatre.
The Troubles have been the source of large volumes of literature but few have used perspective in the way that this production by the Abbey in Dublin seeks to do.
Set in a cleverly reconstructed pub (bringing to mind The Weir) during 2010, Jimmy Fay's taut production starts by giving viewers a quick glimpse of the problems that immigration is beginning to bring to Belfast as barman Robert, played by Robert Zawadski, and local Jimmy watch a World Cup qualifier between their two countries.
This engenders a reminiscence by Patrick O'Kane's Catholic character about a match 36 years before.
It is brought to shocking life by the arrival, to a welcoming head-butt, of Ian played by Declan Conlon. At 52, he is exactly the same age as Jimmy but from the other side of the sectarian divide.
For the next 75 minutes, in a series of monologues, the men relive a day when both were 16 and each had his life changed irreparably by a UVF bomb.
The acting is pitch perfect, while Owen McCafferty's writing is totally gripping and very moving, shedding fresh light on to a conflict that might finally be calming down forever, or is that wishful thinking?
Reviewer: Philip Fisher