Rabbit
Nina Raine
Old Red Lion
(2006)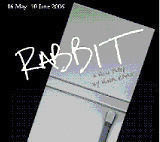 First, it is necessary to repeat the biographical information that has already been churned out ad nauseam about this young lady.
Nina Raine is the daughter of the poet and editor Craig Raine and sister of Moses, whose Shrieks of Laughter opened within a week of Rabbit. This play therefore comes with much baggage and possibly unfair and unrealistic expectations.
Nina Raine has also begun to build a career as a director and does a good job on that front with her writing debut.
Rabbit is a slightly uncomfortable mix of the stage equivalent of Chick Lit; those comedies of sexual manners that perennially appear on BBC 2 between 9 and 10.30; and something much deeper.
Charlotte Randle plays Bella, our Nina surrogate who is drunkenly celebrating her 29th birthday with the knowledge that her father, a man with whom she has a complicated relationship, has an inoperable brain tumour.
The first half of Rabbit takes place in a boozy bar as Bella's friends meet. They split into two categories. The pleasanter are the quiet and sensitive - ex-lover Tom who does something in the city (Rocky Marshall) and doctor Emily (Ruth Everett).
Their antitheses are the other pair, both writers, though possibly only of the wish-fulfilment variety. Adam James is the exceedingly obnoxious Richard, a barrister and blocked would-be writer whose lack of empathy is astounding. More amusing but equally self-centred is Susannah Wise's Sandy who gets most of the funny lines and makes the most of them; as a sex war is declared and debated at great length.
The most interesting scenes are those in which Bella tries to come to terms with her father's illness and also with him. This is moving, where the party comedy is often unoriginal and unenlightening.
Miss Raine needs to decide whether her future lies as a director, a serious writer or possibly she might follow Bella, who has sold out on her principles to make money. If so, she might strike it lucky if she calls the BBC to find out whether they need a new scriptwriter for Coupling, Two Pints of Lager or a new equivalent - Women Behaving Badly?
Reviewer: Philip Fisher