Radiant Vermin
Philip Ridley
First Knight Theatre
The Jack Studio Theatre
–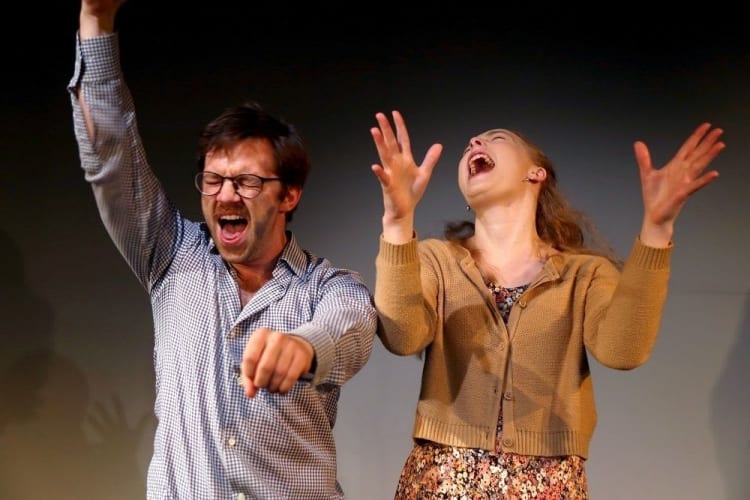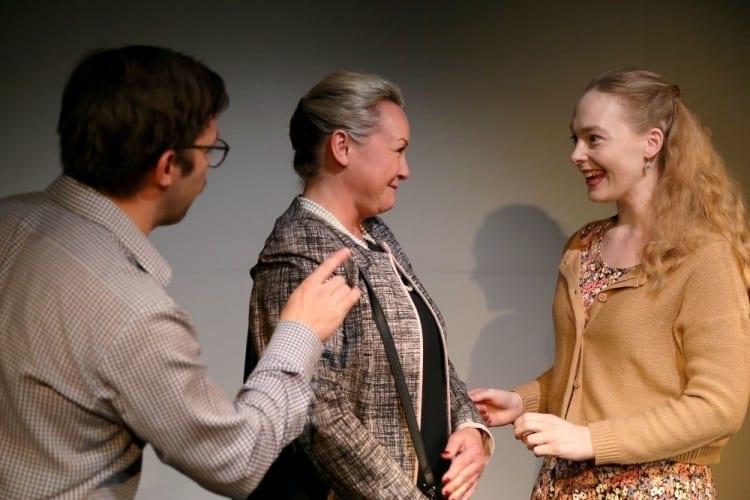 The bad news is that Philip Ridley's terrifically dark and funny play, Radiant Vermin, is as germane as when I first saw it at Soho Theatre in 2014.
The good news, I suppose, is for the audiences who will be able to escape from the reality of the affordable housing crisis and unstopped homelessness and enjoy this outrageous solution to them.
In the play young couple, Ollie and pregnant Jill, are living in a grotty flat which they share with mice. They see no way out until they are offered a free house under a government scheme to encourage renovation in run-down areas.
Yet this snappy single act isn't a political work but an examination of self-propelling greed.
Jill and Ollie are putty in the hands of the persuasive and all-knowing bureaucrat Miss Dee and, with desperation clouding better judgment, they sign the contract and accept the house.
An unhappy accident on their first night in the tatty new house brings them the previously unattainable kitchen of their dreams. At the same time, it becomes apparent what they will have to do to create the designer home they crave—after all, it's not as if they have the money for the necessary refurbishment.
And so starts a chain of justifications accompanied by appallingly ludicrous disavowal—do they really have a choice, it's not for them, doesn't everyone want the best for their children, aren't they doing society a favour.
With heinous rationalisation—"it's people like us who are standing between civilisation and chaos"—they egg each other on.
Self-identifying as God-fearing "good people", the alacrity with which Jill and Ollie are prepared to disregard common-sense, forget their moral values and toss their principles out of the window is simultaneously hilarious and tragic.
Jill and Ollie aren't particularly likable characters but even in this highly absurdist setting they are recognisable in their hypocrisy and unceasing acquisitiveness.
They are played by Laura Janes and Matthew John Wright who share a chemistry and adept comic timing when handling Ripley's sparklingly funny text.
As anticipated by the scheme, the happy couple start to get neighbours who in turn exhibit the nimbyism and crowing of the comfortably-off, middle-class Joneses. They all come to life at the garden party, portrayed by just Wright and Janes in a two-hander mini tour de force.
It is just in this scene that director Dan Armour might have reigned in the frenetic pace just a touch as speed is given the upper hand over clarity, and perhaps some of the joyfully uncomfortable irony.
For the rest, Armour gets the balance just right, especially providing thinking space at the arrival of Kay the altruistic homeless woman (played by Emma Sweeney), an apparent oasis of humanity in a desert of unrepentance.
The suggested video projection did not become apparent, leaving the plain white backdrop of the design as exactly that. I suspect this was a technical difficulty rather than a veiled trick to draw me into the "enough is never enough" theme of the play, because First Knight Theatre's production does the play justice without added effects.
Anyone with scruples will find that Ripley's text is an invitation to to probe their conscience and consumerist aspirations, but not before providing a wonderfully entertaining 90 minutes.
Suitable for ages 16+.
Reviewer: Sandra Giorgetti