Rafta, Rafta...
Ayub Khan-Din
RNT Lyttelton
(2007)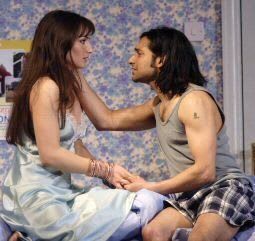 Ayub Khan-Din found fame and fortune with East is East, a comedy set amongst the Asian immigrant community of Lancashire and first seen at the Royal Court before being filmed to great acclaim.
After travelling into some more obscure byways since then, he returns to similarly fertile ground on a National Theatre debut that could almost be dubbed East is East Part 2.
Rafta, Rafta... is a light but often very funny comedy based on Alfie creator, Bill Naughton's play All in Good Time. That may not mean much to audiences today but the 1966 film version, The Family Way starring both Sir John and Hayley Mills, has remained popular.
Nicholas Hytner adventurously asked Ayub Khan-Din to write an updated version and to translate the setting to first and second generation Asian families living on top of each other in the Lancashire terraces that Naughton's originals would have occupied in Bolton two generations ago.
Thanks to a very witty translation and a strong basic plot, this works well and may also achieve one of Hytner's perennial goals, to widen the base of his audience. Rafta, Rafta... will appeal to the usual suspects who have block bookings at his theatre, especially those who are happy for a good laugh at the expense of any great depth. It will also draw in many Asian customers who its director must hope might become habitués of the South Bank complex as a result.
The play opens as the wedding celebrations for lovebirds Atul and Vina are reaching the raucous stage in the wee small hours. Early on, the groom's tipsy father, Eeshwar Dutt stamps himself on proceedings as an exhibitionist and a comedian, who allows Harish Patel to show that he is an outstanding character actor, albeit one who rather likes upstaging his colleagues, even author/actress Meera Syal playing his wife. She at least gets some good set piece speeches and delivers them well.
The young couple could not be happier until they reach their booby-trapped bedroom in the cramped Dutt home, recreated in all its glory in a two-storey terraced house, designed by Tim Hatley.
There, Atul played very believably by Ronny Jhuti, struggles to satisfy his beautiful bride. Roksaneh Ghawam-Shahidi ensures that Vina comes across as patient and sympathetic to her new husband's shortcomings. However, after six frustrating weeks the problem has expanded, threatening their relationship and Atul's reputation in such a close-knit community.
When the respective parents become involved, things get worse and it is only after an explosion of anger that, in a rather clichéd but ultimately moving finale, bliss arrives with the much delayed marital consummation.
Many cast members are making their National Theatre debuts but work well together, with the best of the support from Natalie Grady playing a White wife who is more Asian than those born to it and Shaheen Khan as Vina's humourless, cruelly judgmental mother.
Where Ayub Khan-Din really scores in Rafta, Rafta... is with a stream of extremely funny lines, the best of which are almost all given to the deserving Harish Patel. Nicholas Hytner does him proud with a production that gets all of the laughs and has a filmic feel, thanks to silent sequences that advance the plot between the major scenes,
This kind of play is more often seen in the West End than the subsidised sector but these days it is difficult to get a commercial producer to support a new play. This is especially the case for what might be perceived as a play directed at an ethnic market that doesn't go to the theatre.
Hytner might therefore have done a real service to London theatregoers by commissioning this enjoyable satire on gender and generational differences. He should also be assured of a full theatre for the run's duration.
David Chadderton reviewed this production on tour in Salford
Reviewer: Philip Fisher