Rafta, Rafta
Ayub Khan-Din
National Theatre
The Lowry, Salford
(2008)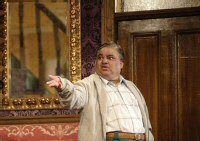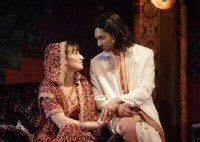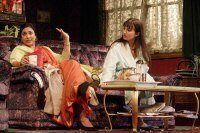 Salford-born Ayub Khan-Din, writer of the play and subsequent film East Is East, returns to his home town with a National Theatre production of his latest play, Rafta, Rafta ('Slowly, Slowly'), directed by Nicholas Hytner.
The play is based on Bolton writer Bill Naughton's All In Good Time, filmed by the Boulting Brothers in 1966 as The Family Way starring John and Hayley Mills and Hywel Bennett. Young British Asian couple Atul and Vina return from their wedding to Atul's parents' house, where they are to live until they can find a place of their own. As they prepare to spend their first night together, a trick played by some younger relatives to make their bed collapse puts Atul off his stride; however when the marriage has still not been consummated after six weeks, tensions appear between the couple, and at some point the news is bound to leak out.
Khan-Din has taken the bare bones of Naughton's play and its Bolton setting and really made it his own. The British Asian characters and setting work perfectly and never appear contrived into the plot. This is a much more mature work than East Is East; although there is some great comedy, lots of serious family issues and revelations are dealt with sensitively and touchingly, even amongst the older characters. A surprise is saved for the closing moments of the play, although it has been cleverly set up before that, but the way in which the revelation is received is perhaps more surprising.
The obvious stand-out performance is of Harish Patel as Atul's father Eeshwar Dutt, who gives a whirlwind performance of this egotistical, frustrating but loveable show-off who means well but does not know how to communicate with his eldest son. His superb performance is equalled in stature by the slightly more subtle performance of Pooja Gai as his wife Lopa, who has some wonderful put-down lines to her husband - funny and serious - which are all delivered perfectly. Rokhsaneh Ghawam-Shahidi is very good as Vina, but Ronny Jhutti's pouty teenager performance as Atul often seems a little forced. There are also very good performances by Shaheen Khan and Kriss Dosanjh as Vina's mother and father.
Designer Tim Hatley's impressive set is a full-sized two-storey house with the front removed to reveal a living room and kitchen downstairs and two bedrooms upstairs, all with fantastically-detailed decor. When the play opens, the whole house rotates and swings into view with all of the cast already moving about on it; only the National Theatre could afford to tour a set that could do this for a single effect of less than a minute, but it is very effective.
This is a wonderful production with some incredible central performances that can move you to laughter and to tears from moment to moment.
Philip Fisher reviewed this production when it began life at the National Theatre
Reviewer: David Chadderton