Ragtime the Musical
Based on the novel by E L Doctorow, book by Terrence McNally, lyrics by Lynn Ahrens, music by Stephen Flaherty
Produced by John W Carter and Jason Ferguson in association with the Landor Theatre
Landor Theatre
(2011)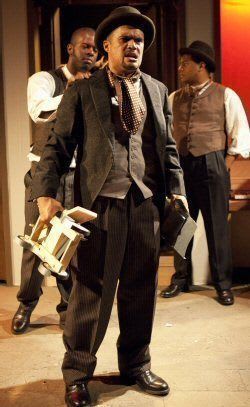 Based on the landmark novel, multi award–winning musical Ragtime is an absorbing portrait of a country coming to terms with changes wrought from industrial innovation and buffeted by a society in flux. Intricately structured, it interweaves three stories mixing its fictional characters with historical figures, placing the action against a musical backdrop of ragtime, the 'new music' emerging from the South whose syncopation echoes the displaced rhythms of the characters' lives.
Previous, mostly American productions of this epic tale have dazzled with their size and spectacle: 25 piece orchestras, casts 40 or 60–strong, vintage cars, model planes and fireworks lavishly embellishing the unhurried action. Here the Landor's Artistic Director Robert McWhir has by necessity and with skill stripped away the superfluous and in so doing his production highlights the show's greatest strengths: the book, lyrics and music from the team that created other such gems as A Man of No Importance.
McWhir has assembled an outstanding cast. Louisa Lydell plays Mother who becomes the head of her affluent white New Rochelle family when Father goes off exploring with Admiral Peary. Initially adrift, she finds herself and her transformation into an independent–minded woman is delicately handled in Lyddell's compelling and beautifully sung performance.
Rosalind James is a vocally striking and moving Sarah, the young black girl who becomes pregnant by boyfriend Coalhouse, here played by Kurt Kansley. It is his mistreatment by the authorities following a racially motivated attack that gives a tragic impetus to events and Kansley's strong–voiced Coalhouse makes a remarkable development from carefree piano player to unlikely hero.
John Barr is intensely affecting as the Latvian Jewish immigrant ready to give up even his name in his efforts to integrate and make a new life for himself and his daughter in an America full of promises. A hard–working silhouette artist he finds the place hostile to strangers and his achievements in the face of struggle and exploitation drive the uplifting conclusion.
Amongst the smaller roles Judith Paris stands out as impassioned anarchist Emma Goldman and Graham Hoadly as a delightfully grumpy Grandfather. Both work hard as does the rest of the cast with multiple roles.
The ensemble pieces have vocal richness and the delivery of the textured score belies the size of the five piece band under musical director George Dyer. Martin Thomas' silhouette–inspired design compliments McWhir's direction in providing clear threads of the interlaced stories. Matthew Gould's chorography is especially effective when evoking spaces, packing in the cast to emphasise the reluctant collision of mutually distrustful groups or creating tableaux.
This show is as good to look at as it is to hear and in downsizing it for the Landor's intimate space the humanness has been restored to Ragtime.
"Ragtime the Musical" plays until 8th October
Reviewer: Sandra Giorgetti