Rain Man
Dan Gordon based, upon the film script by Ronald Bass and Barry Morrow
Bill Kenwright Productions / Classic Screen to Stage Theatre Company
The Lowry, Salford
–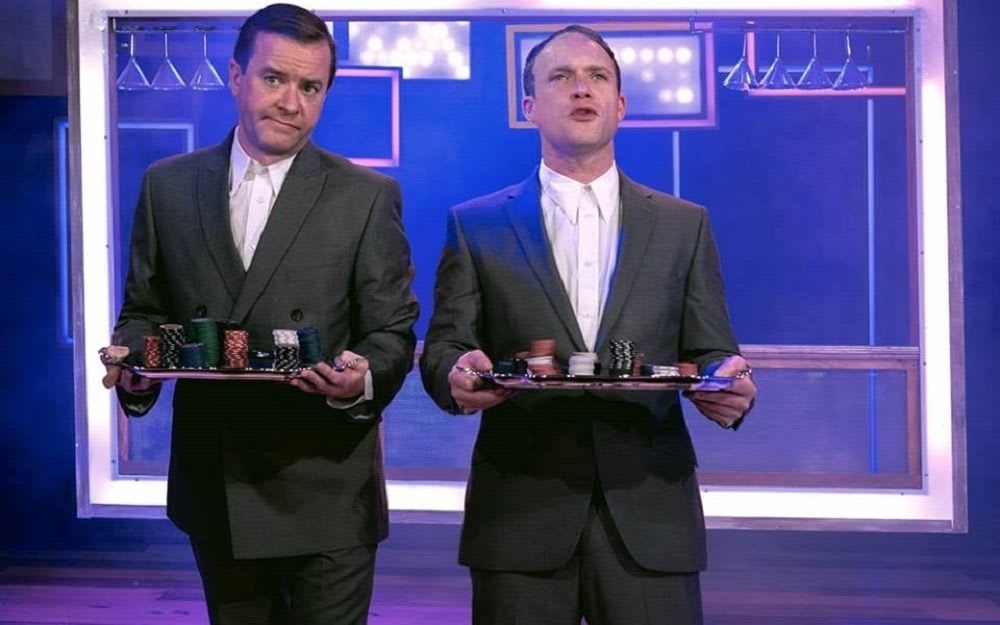 Although Rain Man is the first production from the Classic Screen to Stage Theatre Company, partner producer Bill Kenwright has already had some success adapting films to the stage. As those stories were set in a single, enclosed location (jury or court rooms or prisons), they were particularly suitable for adapting into a theatre version. Rain Man, however, seems less appropriate being a road movie in which travel not only offered scenic views of America, it also served as a metaphor for the emotional journey undertaken by the characters.
We can tell Charlie Babbitt (Chris Fountain) is a shady character as his occupation is a used car salesman. Even by the low standards of that profession, Babbitt seems untrustworthy: making promises he cannot keep and staying just a few steps ahead of bankruptcy. The death of Charlie's father is not a cause for mourning, as father and son were not close having fallen out over a classic Buick car, but a potential inheritance may offer Charlie a lifeline. Charlie is stunned to find the bulk of the estate is left to Raymond Babbitt (Adam Lilley), a previously-unknown autistic brother who has been institutionalised for years. In an attempt to secure a share of the inheritance, Charlie kidnaps his older brother only to find the emotional defences behind which he has hidden for years being eroded by the experience.
Throughout Rain Man, there is the sense of a play moving towards key scenes that take place offstage. As the car journey and iconic vehicle are not an option for a stage version, director Jonathan O'Boyle moves the emotional heart of the play to the casino in which Raymond's abilities as a savant enable him to beat the system. The casino serves as a metaphor for the arbitrary nature of life in which one might die early or suffer a life-changing disability. Although the metaphor is apt, the limitations of a theatre production require any scenes in the venue to take place offstage so the build-up never really reaches a climax.
The mood in Rain Man is gentle and reflective. Adam Lilley's moving performance ensures Raymond's autism is not played for laughs and the humour comes instead from Charlie's frustrated reactions. It is a touching production, although the grinding monotony of providing long-term care for someone with advanced needs is notably absent.
Adam Lilley makes Raymond's mixture of innocence and obsessiveness realistically both endearing and irritating. Yet the most impressive performance comes from Chris Fountain who carries a sense of unresolved anger under Charlie's wide-boy antics, hinting the character could swing from manipulative to physical violence and so brings some welcome tension to the production.
Issues arising from the move from screen to stage prevent Rain Man from being completely successful, but the play remains a well-acted and moving production.
Reviewer: David Cunningham