Rain
Choreography Anne Teresa De Keersmaeker, music Steve Reich
Anne Teresa De Keersmaeker Rosas & Ictus
Sadler's Wells
–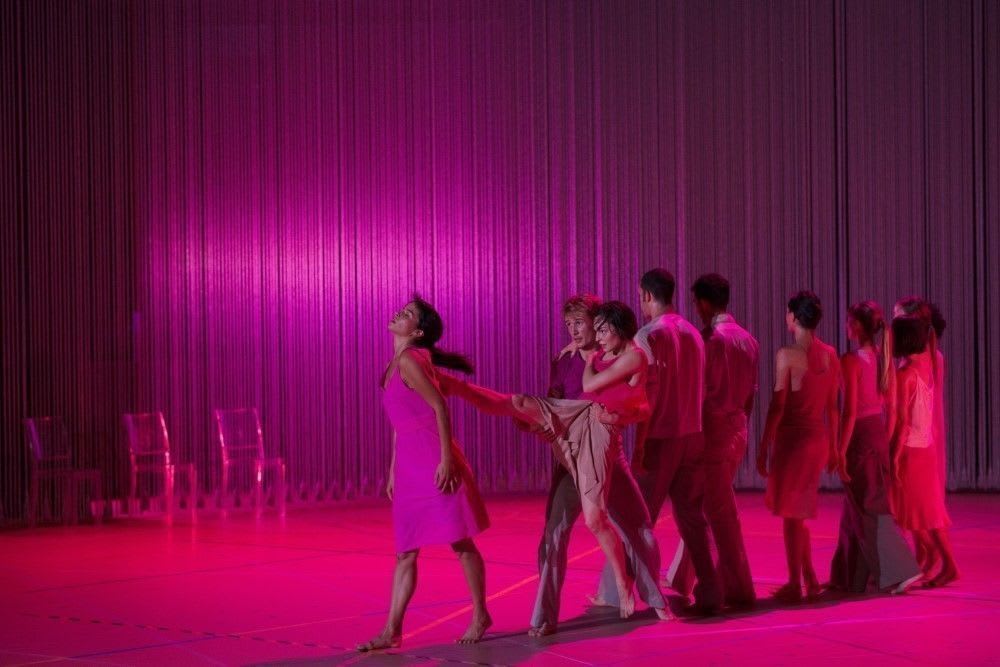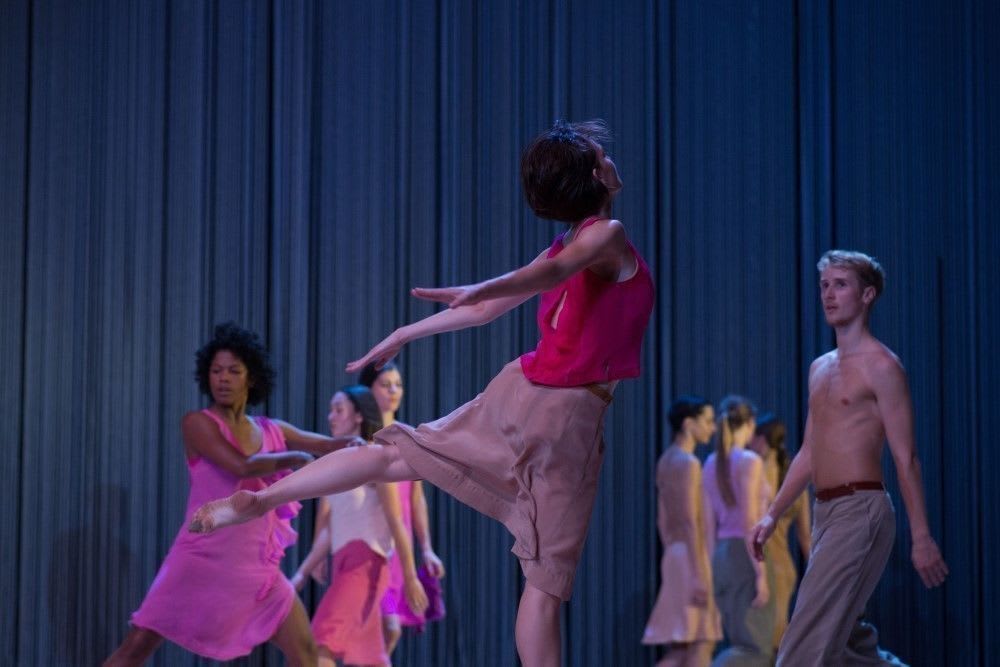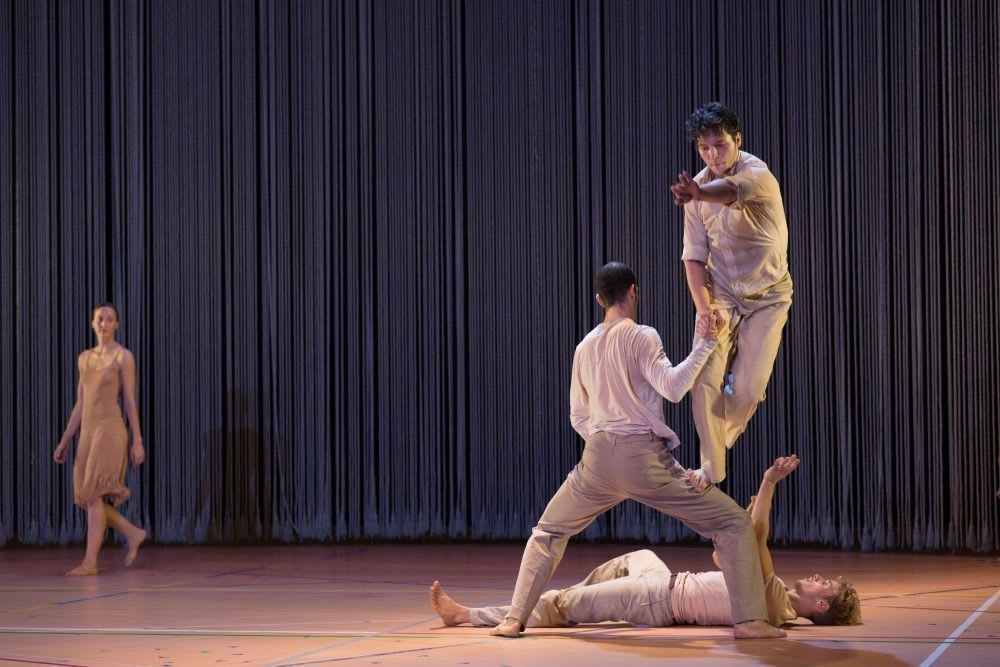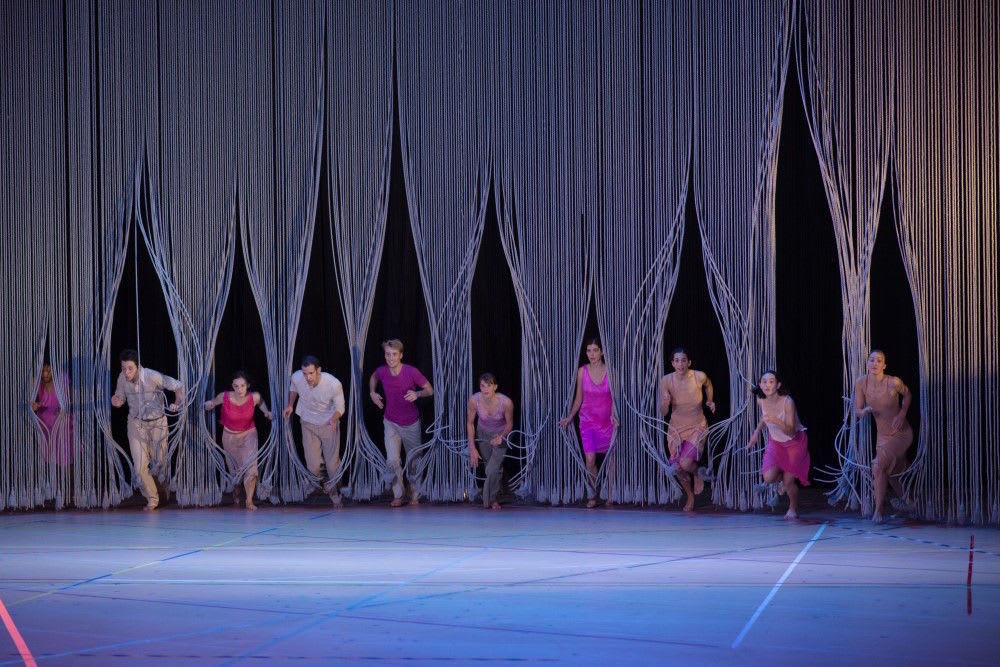 I imagine some of the audience for the revival of Anne Teresa De Keersmaeker's 2001 Rain at Sadler's Wells have come for the dance, some to hear Steve Reich's legendary 1976 Music for 18 Musicians played live by her regular collaborators, the superb Ictus Ensemble. Neither go away disappointed.
Maybe not as elated as Philip Glass and Twyla Tharp's In the Upper Room, but Rain is as close to joyful abandon as the cerebral De Keersmaeker gets, and the audience gives Rain a standing ovation (this is not press night). See what twenty-pound flat-rate tickets and a free programme can do...
Visually indebted to Dries Van Noten's subtle play with ever-changing costumes shaded from dawn pinks to moonlight beiges and silver whites, and Jan Versweyweld's set and lighting design, the arc of Reich's persistent percussive pulse, the progression of his chords are brought out in sympathetic synaesthetic symbiosis.
An omnipotent lamp (a god-head?) highlights the action, and moves away. Subtle shifts of light infuse the stage with roseate colour or drain it: rainbows, clouds and sudden bursts of sunlight between tropical downpours—the mind takes flight. We listen to the music eyes open, but oh to close them, to swim and chill in that mesmerising sound.
Framed by a curtain of weighted rippling vertical cords like rods of rain, on a circular arena playground—a Greek amphitheatre, a dance hall, a Kontakthof, a village green, an asphodel meadow—ten dancers, three men and seven women, for a whole hour walk, run, dance, leap, tumble, gambol in cohorts that fan out into individual musings, duets, trios, and constantly shifting collectives. There are a few translucent Perspex chairs to sit out the dance or for that drenched t-shirt.
An initial mathematical geometry, a textured game of numbers, evolves—to my eye—into a Jackson Pollock painting of scribbles and dribbles, a kinetic millefeuille accumulation of intriguing moves. The three men seem to be constantly vying for Laura Maria Poletti's attention, as others flit by, fall and rise on a breath, gyroscopes spinning on the crest of the sound, Reich's harmonies of the celestial spheres.
What stamina these restless dancers have as on and on they go, marimba music driving them in a St Vitus's dance. Is this Elysium or huis clos (no exit)? Are they temple dancers driven to dance forever: shadows lengthen and they dance on. Or am I attaching too much meaning to an abstract work?
Loosely structured repetition, variations on a theme, breath rhythms, and then it's over: they push aside the rods of rain and run forward for their curtain call—three curtain calls. The audience will not release them.
Reviewer: Vera Liber