When the Rain Stops Falling
Andrew Bovell
Almeida Theatre
(2009)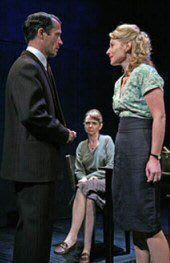 It is a rare play that can leave even a weary critic shaken but When the Rain Stops Falling did exactly that.
Michael Attenborough has bravely and perhaps a little unwisely chosen a very slow tempo for early scenes that make little sense until the complex jigsaw puzzle is put together.
Like J.B.Priestley, whose Time and the Conways demonstrates the theory so well, Bovell appears to believe that time is a fluid medium that can be crossed. The drama drifts between England and Australia over a period of 80 years from 1959 and there are remarkable congruences. Different characters use the same lines and around half of them are called Gabriel(le).
Most are distinctly odd and an appearance of normality is an almost certain indication of the opposite. What does begin to grow is a sense that, in the world created by Australian playwright Andrew Bovell, fathers desert sons, while mothers struggle to love them.
Working chronologically, even though the first scene is the latest, in 1959 we meet a prim English couple, Henry and Beth Law played impeccably by Jonathan Cullen and Lisa Dillon. She becomes pregnant ten years too late, while he is a little repressed and eccentric.
In 1988, the panorama expands thanks to the pivotal characters, Tom Mison's handsome, typically English Gabriel and gabby Aboriginal resident of Coorong on the lonely South Coast of Australia Gabrielle (Naomi Bentley).
He is having troubles with a lonely mother (played by Phoebe Nicholls) who is fond of drinking and escapes to Australia to pursue his father's memory to Ayers Rock. The female version is an orphan with a sad, dark history, who falls almost instantly in love with the man to whom she gives up her long held virginity. All three of these actors also do their part to build an intriguing atmosphere.
Moving on a generation we meet Australian actress Leah Purcell as a woman succumbing to Alzheimer's and Simon Burke, the husband who clearly loves her deeply.
Finally, in 2039 as climate change ensures that the rain rarely stops falling - even in Alice - yet another Gabriel, a drifter played by Richard Hope, is forced to face up to Sargon Yelda's Andrew, the son whom he walked out on when the boy was just seven.
Throw in a fish that falls from the sky and a lot of shared fish soup and this seems like an impenetrable mystery that is not worth pursuing.
However, such is the assurance of Andrew Bovell's writing and the beauty of a production that is barely lit but backed by Lorna Heavey's attractive projections and gorgeous, haunting piano solos composed by Stephen Warbeck, and the evening becomes unforgettable.
By its end, all of the loose ends have been tied to great dramatic effect in a play that is really special and more than makes up for the ponderous opening.
Playing until 4 July
Reviewer: Philip Fisher