Rambert Dance Company: Labyrinth of Love; Roses; Dutiful Ducks; Sounddance
Choreography by Marguerite Donlon, Paul Taylor, Richard Alston, Merce Cunningham
Rambert Dance Company
Sadler's Wells
–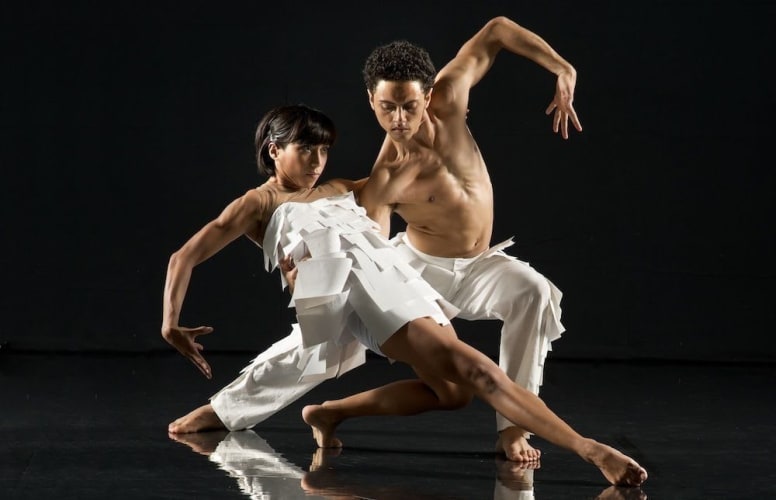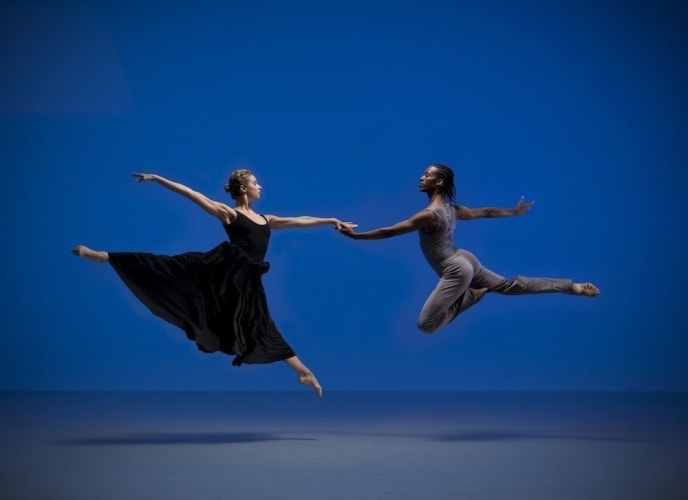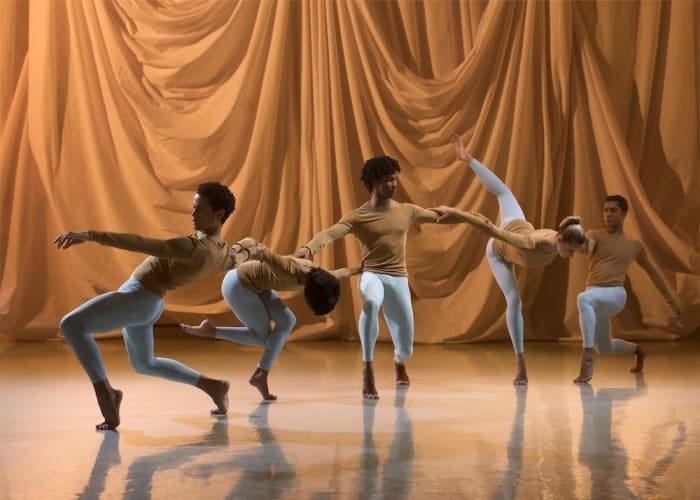 Rambert Dance Company underpins the new with relics from the past in their latest presentation at the warmly welcoming Sadler's Wells. Marguerite Donlon's debut work for Rambert, her new forty-minute long Labyrinth of Love, is followed by Paul Taylor's twenty-five-minute 1985 Roses, Richard Alston's blink and you miss it 1982 Dutiful Duck and Merce Cunningham's seventeen-minute 1975 Sounddance.
Labyrinth of Love is the main dish, and production values are high: visual imagery by YBA Matt Collishaw, music by 'one of America's most performed composers' Michael Daugherty, lighting by Charles Balfour, costumes and set by Conor Murphy, and soprano Kirsty Hopkins singing love poems inspired by Elizabeth Barrett Browning, Mary Shelley, Emily Dickinson, Sappho, and more.
In a potpourri of dance aspects of love (yes, that is a nod to Lloyd Webber), the whole gamut of entangled emotions is made manifest by Collishaw's video projections. Long grasses sway, a Georgia O'Keeffe erotic flower unfurls and bursts into flames, a giant serpent slides over burning coals, falling raindrops turn from cascading diamonds to meteoric rocks of despair, and the globe's reflection melts in the water.
Muscle-bound Chippendale men hand jive behind a long LA bar, girls in white swimsuits wriggle and pose in double vision. Blown by the wind, by a Pan (Miguel Altunaga) on his pipes, and what looks like voodoo trance, singer and dancers become nebulae, slaves to both astronomy and astrology, and, curiously, to Wayne McGregor-esque extreme body language.
However knowingly well-sung and danced, Labyrinth of Love with its clichéd imagery and a score that moves from Debussy pastiche to samba, New Orleans jazz, and musical theatre runs the danger of being both too explicit and a tongue-in-cheek send-up. A classy Las Vegas floorshow runs riot with the food of love, but 'this goodly frame, the earth, seems to me a sterile promontory…'
From the vulgar to the classical in Paul Taylor's Roses, 'a tribute to love and relationships', where there are no roses but nectar of the gods. Five couples, women in long black gowns, men in flesh-coloured taupe, dance in serene atmosphere to lyrical music by Richard Wagner and Heinrich Baermann—strings, horns, wood wind, and a haunting clarinet solo—the pleasure of live music—from the Rambert Orchestra.
Classical moves and tableaux are subverted by tumbles, one-hand cartwheels—the gods at play on Mount Olympus. The music pauses, and a couple in white appear—Kirill Burlov and Angela Towler solemn and captivating. The five couples sit turned away, obedient, as if to look on the dazzling Apollo and his consort (or Zeus and Hera) would not be wise.
Enough of love, let's have a cleansing of the palate. Richard Alston's amuse-gueule does the trick. Using Charles Amirkhanian's 1977 alliterative onomatopoeic Dutiful Ducks percussive sound-text, Richard Alston's incredibly brief but witty solo for male dancer, first created for Michael Clark in 1982, and here danced with swift precision and rhythm by Dane Hurst, is over before one has time to settle into it, more's the pity.
Sounddance, last performed in the UK in 1980 by the Merce Cunningham Dance Company, is revived for Rambert, the first company to be granted the license to perform this work, by Jeannie Steele, a former dancer with Merce Cunningham Dance Company and one of only a select few approved to teach Cunningham's work.
From behind golden drapes (a touch of Wizard of Oz sleight of hand) dancers in pale blue tights and peach tops surge singly and in groups to a surround sound (David Tudor) of tropical forest noises, chirps, gurgles, and space odyssey bleeps.
In random playful exploration of the space around them, primitive elements spinning in air, in enigmatic formations, in amorphous volatile mass, in electronic impulse, in a world of their own dancers move apart, join up, and form new nuclei. Until they are sucked back behind the curtain from whence they came.
Any revival of Merce Cunningham's work is an event, and Sounddance, which takes its title from James Joyce's Finnegan's Wake, is styled as 'a vigorous and complex look at the minutiae of life', but it feels like a treasured museum piece, intellectual dance, dance for the head not the heart, held in dear memory of its creator.
Reviewer: Vera Liber