Rainforest / Seven for a secret, never to be told / Elysian Fields
Choreography by Merce Cunningham, Mark Baldwin, Javier de Frutos
Rambert Dance Company
Sadler's Wells and touring
(2011)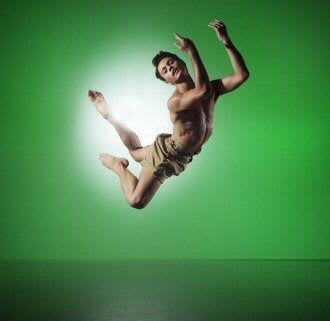 Two premieres, one London, one world, and a golden oldie - the oldie wins hands down. Merce Cunningham's Rainforest (1968) brings out the best performances of the evening from Rambert's lovely dancers: Dane Hurst's big bird, Pieter Symonds' mighty ape, Estela Merlos' dainty darting creature and many more. Exploring the possibilities, and impossibilities, of movement, the joy of being alive.
Animals nuzzle, slither, flick, jump, swing from branch-strong arms, insert and assert themselves in groups, in self-centred solos, duets, and trios. Andy Warhol's silver helium-filled pillows behave impressively well. One is accidentally punctured - adding a little surprise sound to David Tudor's electro-acoustic rainforest screeches and mysterious animal calls.
Learning through play is the starting point of Mark Baldwin's Seven for a secret, never to be told - taken from the children's nursery rhyme about mischievous magpies.
If Rainforest brings Lewis Carroll's Jabberwocky ("Twas brillig, and the slithy toves did gyre and gimble in the wabe") to mind, then Baldwin's Seven is a mix of bedtime stories from the past. Enid Blyton, Alice, and Peter Pan set in the tropical colonies amongst magical green hanging fronds.
Inspired by, and much borrowed from, Ravel's 1925 opera, L'enfant et les sortilèges, Stephen McNeff's score references the period with waltzes, tea dances, saxophones and trombones. Some years ago Jirí Kylián and NDT did a ballet version of the original Ravel opera - here was visual imagination, surreal, fantastic. Baldwin goes for sentimentality.
Nostalgia for an imagined past - picnics on tartan rugs, teddy bears, pillow fights, leapfrog, dressing-up, pretend boxing matches, hand-made carts, boy scouts and girl guides, all very gender-defined, and cliché-ridden. A kinder age seen through rosy spectacles - the past is indeed a different safe country.
No terrible twos or troublesome threes, duets, trios, solos and group dance sweetly in Michael Howell's idyllic dreamscape, Michael Mannion's lighting changing mood and season - all is good clean fun, Dane Hurst a wonderful Sabu, bare-chested in khaki shorts.
Choreography for a family audience: charming music, well-behaved children, girls in frocks and boys in smart scout uniform, imaginary play with flowerpots and things, a perfect Disney-esque tale. Little drama, Ravel pacified, anyone for tea?
Girls will be girls and boys will be boys. But what do they turn into when they grow up. Tennessee Williams knew. Boys will secretly like boys, a bit of rough now and then, and hide behind girls. Death and sex, what else?
If this is a birthday centenary celebration of Tennessee Williams's poetry, the lyrical is missing in Javier de Frutos's choreography for Elysian Fields - the street on which Williams's A Streetcar Named Desire is set. Plenty of steamy southern drama, though, in intense clinches.
Alex North's 1951 A Streetcar Named Desire film score, adapted and arranged by Christopher Austin for the Rambert Orchestra, is, of course, tremendous - moody, evocative, sexy - speaks without words of human longing and desire, of sad failure and defeat.
So, de Frutos goes for words Why? Dancers speak and repeat the woman's story. She talks of the boy she married, only sixteen, his suicide, the disgust and shame of finding him in bed with an older man.
Pederasty, hardcore asphyxiating sex, men on men, they must never show their tender side. Women need to be beaten, too, keeps them keen. Rough trade is the floorshow.
Heat, scorching light (Michael Hulls washes the stage in reds, oranges, greens), men and women sit on Alice in Wonderland chairs, giant and tiny, black carved silhouettes, in semi-circle around a dance floor where the sultry cruel exchanges take place.
Animalistic men ashamed of their tender sexuality hiding behind macho stance, Javier de Frutos signals in banal aggressive dance. Destructive, violent, what happens when we grow up - we screw up? Is that it? Fallen angels?
Deliberate programming or accidental chance? Rambert has a scientist in residence, a specialist in child and corvid behaviour. Is evolutionary development the overarching theme of the triple bill?
A narrative of the human condition perhaps but innovative dance? The late Merce Cunningham upstages both Baldwin and de Frutos. And the Rambert dancers rise to the demands of his creativity.
At Sadler's Wells till 19th November 2011 then touring to Bradford, Plymouth, Newcastle, Aberdeen, Mold, Canterbury, Brighton
Reviewer: Vera Liber