Raven Girl / Symphony in C
Choreography by Wayne McGregor / George Balanchine
Royal Ballet
Royal Opera House
–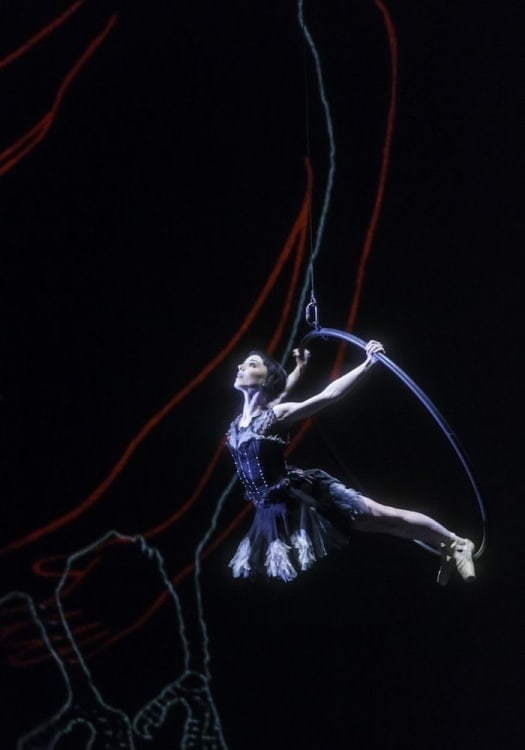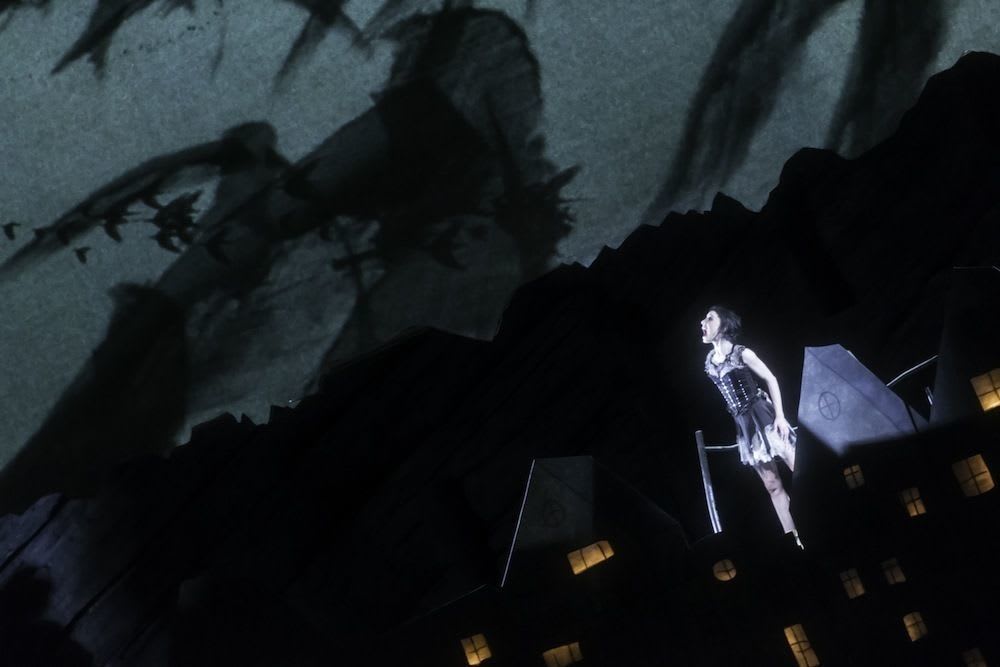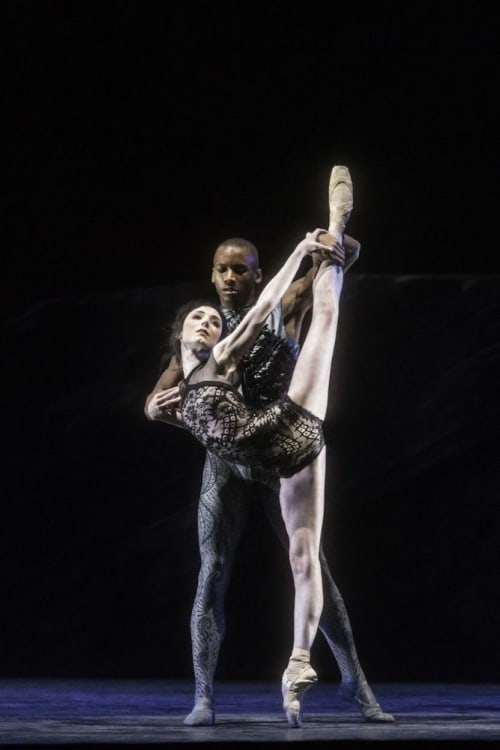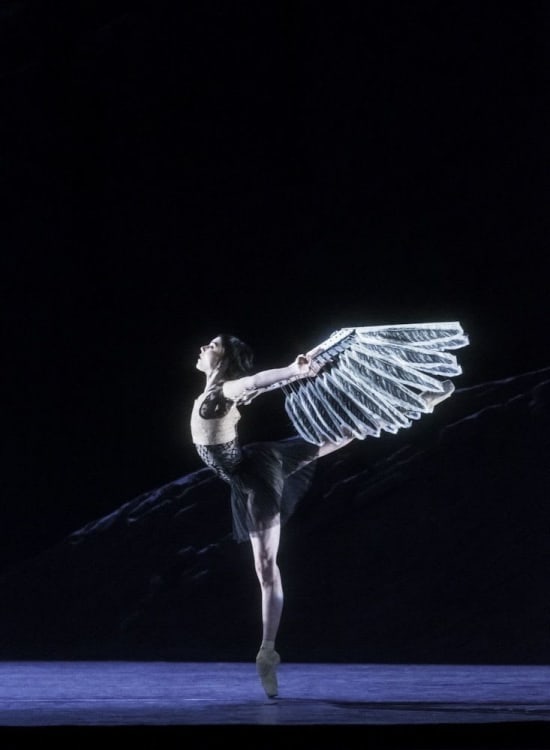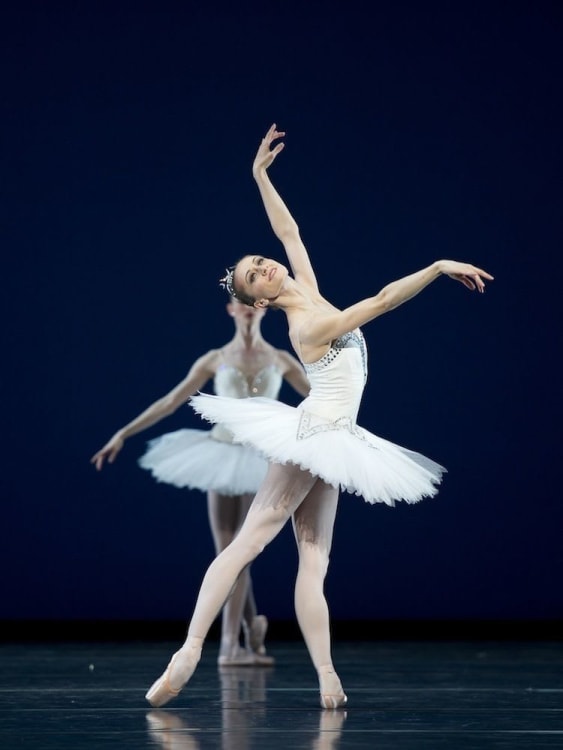 Kevin O'Hare's debut season as Artistic Director of the Royal Ballet ends in a grand finale—a world première of a new ballet from resident choreographer Wayne McGregor coupled with Balanchine's brilliant display for the whole company to Bizet's eloquent youthful symphony.
McGregor leads traditional ballet's fairytale footsteps to a darker place in his stage adaption of Audrey Niffenegger's new graphic novel, Raven Girl. Transmutation, hybrid creatures, interbreeding, all is possible in our darkest imaginings.
Not Firebird or Swan Lake but HG Wells's 1896 The Island of Doctor Moreau and Edgar Allan Poe seem to be Raven Girl's pedigree. Indeed a nineteenth century couple dressed in jet-black appear briefly in this murky world, but who they are is not entirely clear.
Out of the ether swim Gothic letters—to tell us: Once upon a time a postman (Edward Watson)... finds a fledgling raven (Mirabelle Seymour), takes her home, falls in love with her (Olivia Cowley), and together they make a baby girl, who can neither speak nor fly.
The Raven Girl (Sarah Lamb) grows up, goes to university to study evolutionary biology (programme synopsis), where a visiting doctor (Thiago Soares in Dr No white suit and black glasses) presents a lecture on chimeras… He gives her wings in a mockery of an operation.
A boy (Paul Kay) loves her, but is too shy to speak. Where she belongs, who her people are is resolved by a meeting with a Raven Prince (Eric Underwood). She has found her home. Work out the moral for yourselves.
Etching's tooled blacks and greys dominate a stage lit so dark by Lucy Carter that one strains to see the flock of birds on the stage. The sky is filled with Ravi Deepres's video creations: murmurations, Eadweard Muybridge's study of birds in flight, a book's pages rifled by the wind, a bird's nest sketched before our eyes, grey clouds.
Vicki Mortimer's costumes (black masks and wing extensions), a Grimm's fairytale stage set, cutout village skyline, grey cliffs, and props—a museum exhibition glass case holding a pair of wings, an operating theatre trolley—take us deep into a troubled mind.
Composer Gabriel Yared (The English Patient) provides a film score of electronic and orchestral splendour, soft wind instruments, romantic, jazzy Pina Bausch music, sound effects that sustain the narrative, though McGregor prefers to call Raven Girl visual theatre rather than narrative dance.
Patchy, disjointed, expressionistic—think The Cabinet of Dr Caligari and whimsical burlesque—Lamb swinging on a trapeze hoop brings Sophie Fevvers from Angela Carter's Nights at the Circus to immediate mind—Raven Girl unfolds slowly. Anticipation is high, but the tension is slack.
Design led, extravagant visual indulgence that promises much but delivers little dance, Raven Girl's best choreography is in the last ten minutes (of seventy-two). Underwood and Lamb work well together, but it is Sarah Lamb (in black wig) who carries the whole drama on her slender shoulders in gymnastic daring and tremendous presence.
Methinks McGregor's Raven Girl belongs in the Wellcome Collection. Later I read: 'an exhibition exploring McGregor's collaborative enquiry into choreographic thinking will be presented at the Wellcome Collection' this autumn…
No museum piece, in the company's repertoire since 1991, Balanchine's densely-packed thirty-six-minute neo-classical white tutu Symphony in C, half the length of Raven Girl, delivers an ebullient non-stop dancing punch, fireworks galore for four principal ballerinas, partners and corps de ballet. The Royal Ballet rise to it and the audience love it. No polite applause here.
Created for Paris Opera Ballet in 1947 titled Le Palais de Cristal, restaged and renamed for the New York City Ballet in 1948, set to Bizet's Symphony No 1 in C major, which was written in 1855 when Bizet was only seventeen (studying with Gounod) but not discovered till 1933—Stravinsky pointed it out to Balanchine—it is a mix of exuberance and longing. It needs no wings to take flight.
Balanchine's maxim 'see the music, hear the dance' is apposite. Zinaida Yanowsky and Ryoichi Hirano take on the first allegro vivo movement, Yuhui Choe and Steven McRae (whose natural high leap almost eclipses the rest) take the third allegro vivace at a pace, as do Laura Morera and Ricardo Cervera in the vivace finale fourth, but it is the second lyrical andante that is its heart.
Marianela Nuñez and Thiago Soares give the performance of the evening. One sees Swan Lake's Odette when a regal Nuñez leans into Soares's arms, hearts sigh, souls are moved, dreams fulfilled.
Balanchine saw his job as making 'the beautiful more beautiful'. He does. And the music under Koen Kessels baton is transporting.
Reviewer: Vera Liber