The Real Thing
Tom Stoppard
Salisbury Playhouse
(2009)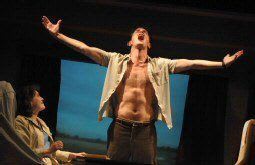 When theatrical entrepreneurs are contemplating their programmes in a period of economic recession, I doubt that Tom Stoppard's The Real Thing is first to hand.
Forget that this is a play about infidelity; far more relevant is the fact that it is the work of a playwright fascinated by language and the subtleties of metadrama - that is to say, plays about plays. Thus, the first scene is written by one of the characters in the second scene - and so on.
As a friend observed to me in the bar after Toby Frow's production for Salisbury Playhouse this week: "If you come to the theatre with problems, they will still be with you when you leave!"
This is certainly not to detract from the excellent work of Frow and most of his company. In particular, I like Ben Stones' design which, after catching the eye with neatly sliding settings, caps the evening with glimpses of rural countryside from a (first class) railway carriage window.
David Birrell and Sarah Winman cope well with the tough task of the opening scene as he reveals his discovery of her passport in a drawer while she is supposedly in Switzerland. This sets the tone for the evening, although the performance is considerably enhanced with the appearance of Richard Lintern and Madeleine Worrall as Henry and Annie.
There is a great deal of argument and no-one should complain that they have any difficulty hearing the, for me, often convoluted text. And while the comedic aspect of the play invariably leaves me at a distance, I have to record that a great many in the full house clearly find much amusement in Stoppard's dialogue.
In fact there is considerable food for thought in the programme notes in which the writer admits, in what might have been a Wildean slip, "I write plays because writing dialogue is the only respectable way of contradicting yourself."
"The Real Thing" continues at Salisbury Playhouse until Saturday 21st March.
Reviewer: Kevin Catchpole