Reasons to Be Pretty
Neil Labute
Almeida Theatre
(2011)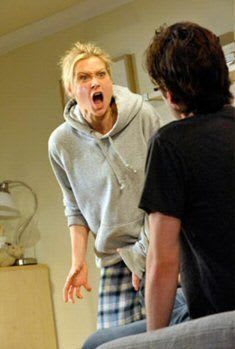 Neil Labute has always been the master of nasty but in Reasons to be Pretty, possibly for the first time, he exposes a tender underbelly.
In the early scenes, you would never know it, as from the moment that the lights come up, we are plunged into a bitter lovers' argument.
On one side, there is wronged Steph effing and blinding as she manically tears into the love of her life Greg over the tiniest of slights. Is an overheard observation that she is "ugly" or perhaps just "regular" justification for a tearful tirade from which there is no retreating?
In her insecure eyes, it obviously is and viewers might be won over by the incredible efforts of Siân Brooke. The actor is enjoying a good year, having excelled for Mike Leigh in Ecstasy at Hampstead then in the West End and repeating the magic here.
This is not Steph's play though, as Greg proves to be the protagonist. He is a difficult mixture of opposites. This handsome man, given understated realism by Tom Burke, is a blue collar worker who reads classic novels. He is also a jock with the guys but when the need arises, capable of great sensitivity.
This is necessary when your best friend happens to be Kieran Bew's Kent. He is an odious, archetypal nasty alpha male, of the kind that this writer regards as a mainstay, having no qualms about screwing around while his wife is pregnant.
That wife, Carly, played by Billie Piper, is an airhead security guard inexplicably working in high heels. She is also desperately in love with Kent despite knowing in her heart of hearts that he is [not worthy of her] (insert your own Labutian expletive to replace that last phrase, if desired). Miss Piper is playing little more than a cameo but becomes emotionally effective as Carly's life reaches its nadir.
Midway through the first half of the two hours, the play begins to lose its way as the couples each start to repeat their misgivings and the gender wars become a little too stereotyped and reminiscent of almost identical debates in Fat Pig.
After the interval, through Greg the play becomes much more introspective and eventually moving, as he and Steph have to face their own inadequacies and look to the future, while reality strikes for their friends, in several senses of the verb.
Reasons to be Pretty therefore turns out to be much deeper than had seemed likely and proves yet again that Neil Labute is a supremely perceptive observer and conveyor of 21st Century battle of the sexes.
"Reasons to be Pretty " plays until 14 January 2012
Reviewer: Philip Fisher