Rebecca
Daphne Du Maurier adapted by Frank McGuinness
Southampton Mayflower and touring
(2005)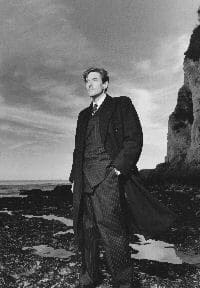 There are certainly productions of Rebecca that look more like Manderley. Few that sound as much like Daphne Du Maurier's classic tale as Patrick Mason's magnetic account, with Frank Mcguinness's script, currently packing Southampton's vast Mayflower theatre.
No complaints about Robert Jones's minimal setting- an empty stage dominated in turns by projections of rolling Atlantic surf and bleak acres of Cornish coastland.
For truth to tell the secret of any such adaptation lies in translation of text from page to stage. McGuinness knows what we come to hear and gives it to us in reams!
The star of this show, if not Manderley itself, is Maxim De Winter. The lightweight charmer, Nigel Havers, for all his screen persona, may not immediately come to mind as a natural for this role. Yet he breathes a subtle charisma all over the performance, every other character slotting into place around him.
Elisabeth Dermot-Walsh, a relative newcomer to the big stage, gives an almost schoolgirlish charm to the second Mrs De Winter. It's hard to remember she is telling the story, so seamlessly does narrative blend into scene.
Maureen Beattie is a formidably dark Mrs Danvers. Any stranger who had not noticed the full house would appreciate the ritual he was witnessing from the murmur of the audience on her first entrance.
Picking out the cameos from this company is an unworthy exercise, though Amanda Waldy's Beatrice and Gregor Henderson-Begg's simpleton catch the eye, as does Guy Williams as Flavell - if only in the latter case for wearing spats with blazer (even in the 'thirties, surely not).
The unseen strength of this production, however, is its pace. Under two hours, including generous interval for a sell-out, and no sense of the dialogue suffering. Characters simply arrive, say their piece and vanish. No hanging around.
Personally, I miss a more tangible presence of the brooding mansion - although the open space exposes near classical proportions of the drama and its telling final scene.
I must be mistaken but nobody seems to write stories like this any more.
This production has also been reveiwed by Georgina Merry at the King's Theatre, Edinburgh, and by Steve Orme at the Regent, Stoke-on-Trent
Reviewer: Kevin Catchpole