Red Velvet
Lolita Chakrabarti
Tricycle Theatre, Kilburn
–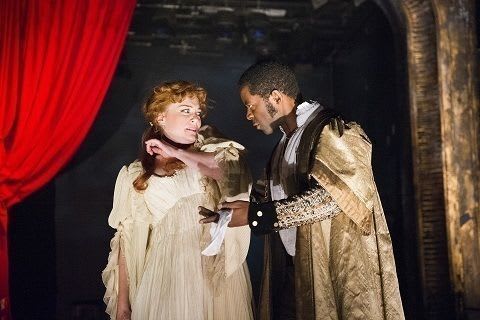 Taking over the reins of the Tricycle following Nicolas Kent's triumphant 28 year spell as artistic director was always going to demand something special.
In selecting her first play, Lolita Chakrabarti's Red Velvet, Indu Rubasingham sets out her stall in a fashion that promises much for the future. This is a fictionalised view of two dramatic periods in the life of African-American actor Ira Aldridge, played with dramatic brio by the playwright's husband, Adrian Lester.
We start towards the end of his life in 1867 when one of the greatest performers of his generation is appearing as King Lear in Lodz in what is now Poland. There, he is interviewed by Rachel Finnegan's Halina, a tyro journalist who is beginning to develop feminist tendencies in response to the male chauvinism that she faces at work.
Using her pretty face to good effect, the journalist begins to draw out the veteran actor but hits an angry stone wall when she attempts to explore the reasons why he deserted Covent Garden after only two performances as Othello and began a lonely, life-long world tour, only receiving succour from the two wives that he ran practically bigamously.
The false proscenium with its gorgeous red curtain then comes into play as we are transported back to one of London's two main theatres, home of the legendary Edmund Kean.
Sadly, the veteran was close to death as, with the assistance of manager Pierre Laporte given a surprisingly convincing French accent by Eugene O'Hare, Aldridge is chosen to take his place at the head of an experienced cast. This inevitably puts several noses out of joint, particularly Kean's haughty but apparently talentless son Charles, played by Ryan Kiggell.
The American attempts to inject a dose of realism into mannered English acting that will strike modern audiences as hilarious. The reactions vary from Ellen Tree's enthusiasm to downright disdain from other cast members.
The interval curtain during the two-hour performance is brought down by a superb rendition of the handkerchief scene by Lester at his very best and the excellent Charlotte Lucas as the younger Kean's fiancée Miss Tree, which shows just how exciting Shakespeare can be.
After the interval, the play moves into a period of melodrama as reactions to the play and the closeness of the leading actors soon descend into bigotry, led by the press.
What Aldridge has to go through is terrible to behold and explains why in 1833, the year after the great Reform Act, the London stage and the man that could have been one of its finest exponents parted company forever.
Red Velvet is an ideal play with which to launch a new theatrical career in Kilburn. It will appeal to local audiences for its exploration of racial attitudes 180 years ago, while at the same time drawing in theatre lovers who will be fascinated to enjoy a taste of the performing arts of the era.
This is also an opportunity to discover much about a brave but forthright man who began to pave the way for such actors as Paul Robeson, Sidney Poitier and the superbly versatile Adrian Lester.
After seeing this play, Tricycle regulars should feel comforted that the theatre is in good hands and many of them might also be tempted to seek out a biography of Ira Aldridge, clearly a fascinating character as well as a great actor.
Reviewer: Philip Fisher