In the Red and Brown Water
Tarell Alvin McCraney
Young Vic
(2008)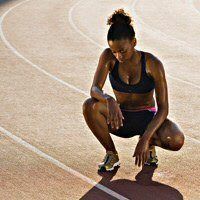 Despite a stunning ending, it has to be said that In the Red and Brown Water is something of a triumph of style over content. That might not be quite as negative as it sounds, since the staging is really special.
The powers that be have flooded the Young Vic to around ankle depth so that the actors wade rather than strutting across what would be the stage.
It is more exciting than it sounds as, until the actors appear, the murky depths look like thick, black oil that could go down forever. It was noticeable that those who opted for the front row, at what might best be described as swamp level, trod very carefully.
For two hours, the sad decline of Ony Uhiara's Oya is related by a cast, supplemented by the colourful Abram Wilson's evocative, jazz-inspired music on trumpet and floating piano.
Oya is a champion junior athlete who receives less encouragement from her Mama Moja (Adjoa Andoh) than she deserves. Even worse, when a college coach offers her a scholarship, she discovers that Mama has a year to live and the initial postponement of the scholarship eventually becomes permanent.
After Mama dies, the popular girl has to choose between three suitors. They are Shango (Ashley Walters), a man so sexy that he carries around his own trumpet accompaniment, Ogun Size (Javone Prince), whose stutter she instantly cures, and Li'l Elegba (John MacMillan), a lovable manchild so fecund that he is a father before he becomes a man.
What she really yearns for though is a child of her own and therein lies the heart of the story. Oya's failure in this respect is her tragedy.
Tarell Alvin McCraney has already wowed Young Vic audiences with The Brothers Size, the first play in this trilogy of Brother/Sister Plays, which is making a welcome return to play alongside In the Red and Brown Water.
His style is derived from a great African-American story-telling tradition with characters narrating their own actions to move along the plot at breakneck speed.
While this play has echoes of classical drama, it has neither the power nor the simplicity of the earlier play. Even so, it is worth a look for Walter Meierjohann's adventurous staging and strong acting, especially from Ony Uhiara and John MacMillan, who is having a storming year, having already impressed in The Last Days of Judas Iscariot and Piranha Heights in 2008.
Playing until 8 November
Reviewer: Philip Fisher