Relative Values
Noël Coward
Harold Pinter Theatre
–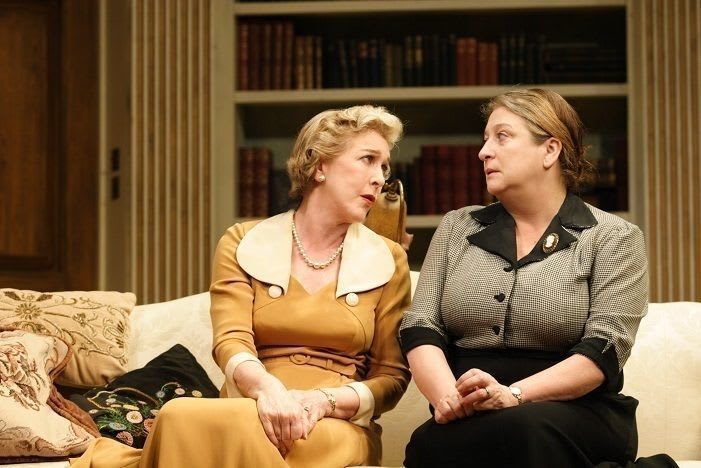 Relative Values is a wafer-thin sitcom blessed with a starry cast. This transfer from Bath addresses issues of class from the perspective of a stately home in post-war Kent.
To add period colour, the gaps between scenes are laced with Pathé News coverage from 1951, some real, some seemingly recreated specially for the production.
It would be hard to recognise that the country was in transition to socialist equality from the activities of the home team, although they seem very short of menials, surviving with only a token four or five. However, everyone knows his or her place, which is the source of the comedy.
The main players from the Upstairs community are the Earl of Marshwood and his dowager mother. Sam Hoare's young Nigel is a dim, humourless dullard who relies on his money for any kind of attraction.
Patricia Hodge gives his mother dry wit and charm, as she runs rings around all and sundry in an effort to ensure that everybody lives happily ever after.
For some reason the last family member, Stephen Pacey's nephew Peter has been turned into the campest of grinning nobodies.
From the far end of the social scale comes a duo comprising Rory Bremner as Fred the butler—Jeeves reincarnate opposite his own Bertie Wooster—with the kind of constant sardonic raised eyebrows that would have seen the real thing dismissed on the instant.
The catalyst for the comedy is Caroline Quentin in the role of a loyal maid, Moxie. She gets many good lines as a mild hysteric who discovers that the American film star, Miranda Frayle (a most inappropriate name for the towering beauty) who has hooked His Lordship just happens to be her long lost sister from Sidcup.
Leigh Zimmerman has some fun playing the delusional beauty who has reached a certain age when work might be harder to come by than in her heyday.
The plotting and script rarely get beneath the skins of the characters, nor do they make much of a contribution to the class debate, although there is a fair deal of unsubtle humour to fuel the evening.
Judging by his request that the actors do their best to garner laughs around the script through physical and facial excesses, Sir Trevor Nunn might also have concluded that this is not Coward at his best.
That seems a fair assessment, when one compares this dated piece with so much of the Master's best work, which is fit to compare with the finest plays of the last century.
Reviewer: Philip Fisher