Relatively Speaking
Alan Ayckbourn
Theatre Royal, Bath
Wyndham's Theatre
–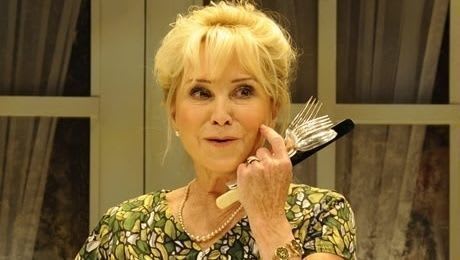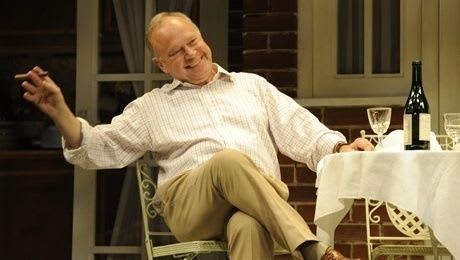 Philip Larkin tells us that "sexual intercourse was invented in 1963". Judging by this play, it caught on very quickly since, even in fecund suburbia, it was raging only two years later.
This small scale farce with only four characters is now almost half a century old, having first seen the light of day in those swinging sixties with Michael Hordern and Celia Johnson joined by a young Richard Briers and Jennifer Hilary in the original cast.
While Relatively Speaking has its moments, it now comes across very much of its time, morals having moved on and every aspect of sexual practice explored in far more graphic detail in every medium imaginable in the ensuing half-century.
The plotting is careful, in that jokes are planted early and allowed to mature before finally blossoming in their full glory later in the bare two hours of running time, including interval.
However, the multiplicity of lies told by Kara Tointon's scheming Ginny and her older lover, Philip played by Jonathan Coy are of the kind that will always be found out, so far-fetched are they.
The opening scene, set in a cramped Marylebone flat, sees Ginny trying to explain away all of the trappings of an affair with a rich man. Max Bennett as Greg would have to be unnaturally dim to ignore a list that includes over-sized slippers, enough flowers to open a florist's, chocolates, dead phone lines and more. He is.
The coup de grace that eventually leads to farcical consequences is Ginny's reckless Sunday jaunt to affluent Buckinghamshire supposedly to visit parents, who actually live Down Under.
When Greg, having popped the marital question to ambiguous response, proceeds ahead of his intended intended, the comedy ensues on the patio in front of Peter McKintosh's spectacular mini house, adorned by climbing flora and immaculate topiary.
Here, the complications multiply, as the innocents, Greg and Philip's wife Sheila portrayed by Felicity Kendal (surely our next theatrical Dame?) try to understand the interactions between Ginny and Philip without having the nous to comprehend them, if that makes some kind of farcical sense.
There are some extremely funny lines, though Miss Tointon tends to work rather too hard to get laughs that should be there anyway.
The evening is topped off by two superb pay-offs for Miss Kendal, the first a delicious revenge that skewers Philip and the second, an irony that redresses several balances and allows her trademark feline smile to bring down the final curtain.
Relatively Speaking may not be the best that Sir Alan Ayckbourn has delivered in a career that now boasts over 75 stage offerings but Lindsay Posner's Theatre Royal Bath transfer is funny enough to attract the punters and allows the older couple in particular to show off their comic timing and character acting abilities most effectively.
Reviewer: Philip Fisher