Remembrance Day
Aleksey Scherbak, translated by Rory Mullarkey
Royal Court Theatre Upstairs
(2011)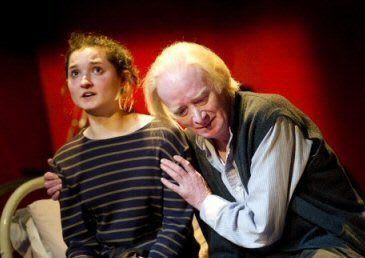 The Royal Court's International Team has a really good hit rate when it comes to unearthing exciting new talent in unlikely places. They have done it again, with this excellent political and moral drama by Latvian writer Aleksey Scherbak, Remebrance Day.
It is sad to say that the problems he identifies in his home country are universal. That makes this gripping English version, presented in a gritty translation by Rory Mullarkey, valuable and intellectually stimulating.
The drama takes place in a dilapidated block of flats in Riga, given depressing realism by designer Tom Scutt. One flat is home to Anya, a bright teenager played by Ruby Bentall. The idealistic youngster wants to be a surgeon but suffers from the kind of sectarian issues that we are familiar with from Northern Ireland but most Londoners would not be aware of in Latvia.
Ever since the war, the country has been split between "Russians", many of whom were not even born there even if parents or grandparents had been, and Latvians. The latter grouping supported the Nazis during the war and many of them still do so today.
The catalyst for the play is a Remembrance Day march by old soldiers on 16 March, Latvian Legion Day, at which politically fervent Anya decides to join the silent protesters of the Russian Party.
This infuriates her seemingly apolitical father Sasha, played with calm realism by Michael Nardone. Despite the efforts of his wife (Michelle Fairley as Sveta) and the calming influence of son Lyosha (Iwan Rheon), dad feels obliged to step in and finds himself embroiled in a modernised Kafkaesque hell.
The consequences are unimaginable but all too believable. In an effort to show his daughter that moderation that can triumph, Sasha preaches a message of forgive and forget on the local Russian television station.
All hell then breaks loose as one lot of extremists brands him a Nazi while the other will still not deign to talk to him. This gives the family a series of problems which seem insuperable.
Aleksey Scherbak's main goal is to explore the political and ethical dimensions that his story brings to the fore and, in doing this, his characterisation is not always as deep as it might be.
Even so, in addition to the family, the writer has created a trio of contrasting octogenarians all of whom are memorable.
Somehow, in what is effectively a two-party state, they represent three different points of view. Sam Kelly's Paulis is an unreconstructed Nazi with extreme views, Struan Roger plays Misha, a polar equivalent from the Russian side with a rifle that he is not afraid to use, while the mollifying Valdis (Ewan Hooper) somehow managed to jump with alacrity from side to side while the other two were so earnestly fighting each other in the war.
Lyosha also makes a big contribution to the debate in a fine speech about internationalism and global harmony.
The 90 minute play ends by dramatically proving Anton Chekhov's theory. If you introduce a gun in the first act, it will come back to haunt someone by the end of the evening.
The keys to the success of Michael Longhurst's production for British audiences will be not only the chance to get a glimpse of life behind what used to be the Iron Curtain but also its parallels with our own civilised society today. If you replace fundamentalist Russians and Latvians with Black and White or Muslim and Christian, the arguments will be very much the same. As such, Remebrance Day is a valuable chance to look into our own moral vacuums as much as those in Scherbak's home country.
Playing until 16 April
Reviewer: Philip Fisher