Renaissance Men
James Patrick and Alexander Knott
Bag of Beard
53two, Manchester
–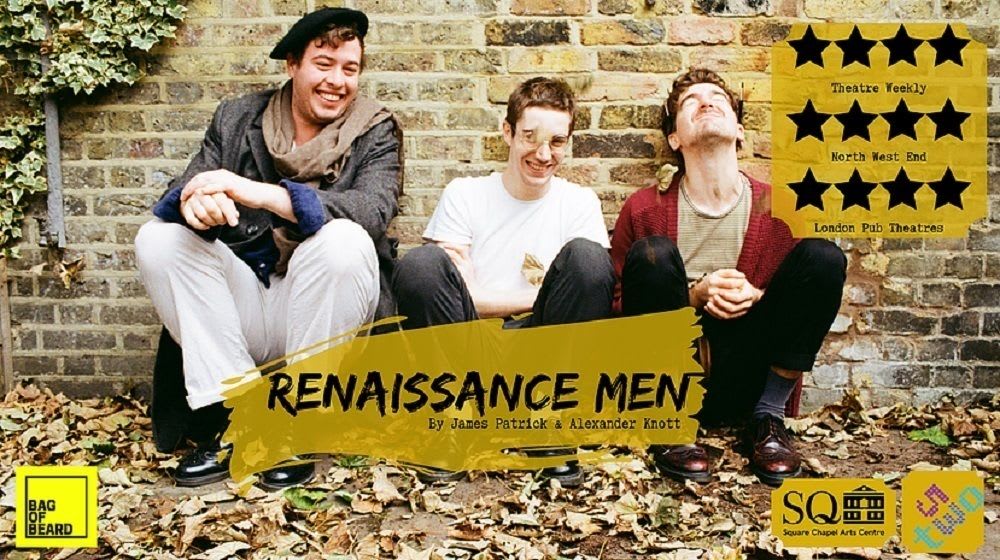 A bare description of Renaissance Men sounds like a cross between Withnail and I and American Buffalo. However, James Patrick and Alexander Knott's play is a not a simple homage but a sharply original work full of decent jokes and featuring some genuinely surprising plot twists.
Irvine (Aaron Price) aspires to be a poet but, for reasons he is unable to articulate, compulsively writes pornography. He shares his squalid flat with art-school dropout and permanent pisshead Winston (James Demaine) and pretentious artist Quentin (co-author Alexander Knott). When Quentin becomes convinced that a painting in a local charity shop is a genuine masterpiece, the friendship becomes strained. Irvine is the only one with funds to buy the painting and his friends are not exactly grateful. More significantly, potential buyer Mr Sutcliffe (Jack Gogarty) has a hidden motivation that has nothing to do with the painting.
Renaissance Men is an odd mixture of cliché and disturbing shocks. Winston and Quentin are characters lifted out of a sit-com; one hiding behind quotations from books he may not have entirely understood and the other—outfitted in beret and scarf—an off-the-peg image of the flamboyant artist. However, James Demaine and Alexander Knott make the characters more than easy stereotypes; there is a faded elegance to the dishevelled Quentin and a definite sense of Winston becoming aware of Irvine's problems but out of his depth trying to help.
Jack Gogarty brings a touch of menace to the play but Aaron Price dominates with a fine portrayal of someone damaged by events and overwhelmed when given the chance to confront the cause of his problems. Hunched over, flinching and constantly clinging to his clothing, Price is the picture of a trauma survivor.
Ryan Hutton, directing in collaboration with the company, sets a rich and engaging atmosphere. Extended scene changes become Madrigal dances or drinking competitions. Bawdy humour mixes with philosophical ponderings and a declaration of love precedes an act of brutality. While it might not catch the sour mood of friendship becoming toxic, the dizzy, drunken atmosphere is always engaging and ensures sudden changes in mood have a truly shocking impact.
Renaissance Men is a refreshing blast of irreverence in which the script and performances are equally strong.
Reviewer: David Cunningham