Rent
Book, music and lyrics by Jonathan Larson
Robert Mackintosh and Idili Theatricals Ltd for Rent 20th Anniversary Production Ltd
Curve Theatre, Leicester
–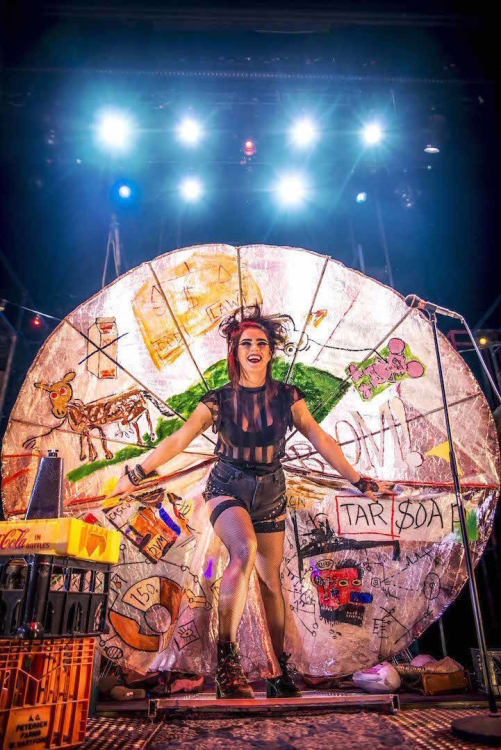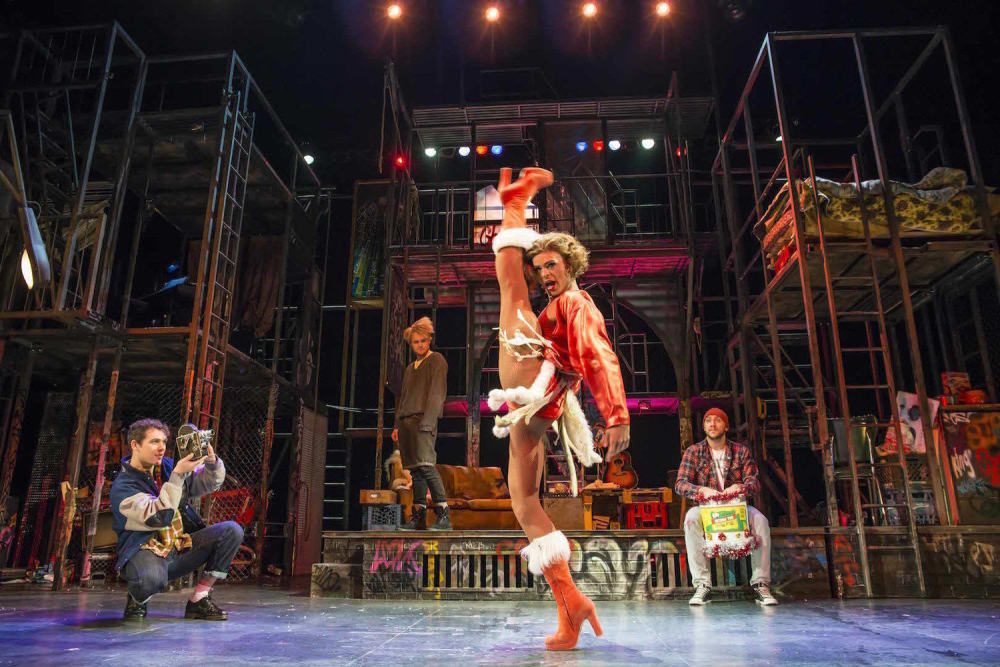 Jonathan Larson's La Bohème-inspired, AIDS-themed urban rock opera Rent is now well into its twentieth anniversary tour, directed by Bruce Guthrie and with a strong, young cast singing as if their lives depend on it.
Focusing on the progress of three relationships from one 1990s Christmas Eve to the next in New York's East Side, the characters live with the triple threats of homelessness, addiction and AIDS. You may be forgiven for thinking this might not be the best recipe for entertainment, however, the mood of this musical is less relentless misery, more live for today, tomorrow comes soon enough.
Part of the intensity of emotion surrounding Rent is compounded by the sudden death of Jonathan Larson; he wrote the book, score and lyrics, saw the final dress rehearsal off-Broadway in January 1996, but died later that night from an undiagnosed aortic aneurysm. The show went on to critical and box office acclaim, bagging a Tony and Pullitzer Prize.
Mark (Billy Cullum) acts as narrator, a would-be filmmaker recording his friends' comings and goings. Mark shares a squat with struggling musician Roger (Ross Hunter) who meets dancer Mimi (Philippa Stefani). Their relationship is complicated by her other relationships with drugs and the landlord Ben (Javar La'Trail Parker), who in turn is looking to evict them to turn the space into a studio. Mark and Roger's friend Tom Collins (Ryan O'Gorman) falls in love with Angel (Layton Williams), a drag queen with a warm heart (and great shoes).
Mark's ex, Maureen (Lucie Jones), is now with strait-laced Joanne (Shanay Holmes) and sparks fly during their on/off relationship, nicely exemplified in their cat-fight duet "Take Me or Leave Me". Jones has shaken off her last role at Curve (as nice girl Elle in Legally Blonde) with an out-there performance as avant-garde Maureen, particularly in her signature over the top "Over the Moon".
So far, so complicated, but characters and relationships are quickly established and the harsh realities of life in Bohemian Alphabet City are centre-stage. Anna Fleischle's sparse scaffold of a set provides many levels for Lee Proud's inventive choreography.
The look is grunge, there is crack and promiscuity, tragedy and comedy, but the strength of this story is how the friends all look out for each other, with Angel as their inspiration, and loving "glue".
Williams owns the stage as Angel, adding sass by the spadeful and total commitment to the wincingly adventurous moves in "Today 4 U".
Fans of the show know very well that act two begins with the achingly harmonious "Seasons of Love", and this is the first time I've experienced an audience clap and whoop before a song begins, such was the anticipation.
Rent is more shabby chic than penthouse in terms of overall content; matters haven't progressed an awful lot by the interval, with most of the rest of the year condensed into act two. A wordy musical, act two particularly could do with an edit, and seems unwilling to come to an end.
But we get there eventually and, despite these limitations, the entire cast each put their mark on their characters, performing with energy and raw passion. The standing ovation is well-deserved.
Reviewer: Sally Jack