Beautiful House
Cathy Crabb
Re:Play Festival
Library Theatre, Manchester
(2009)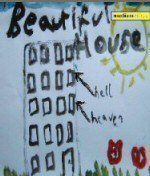 Cathy Crabb's Beautiful House, which we originally reviewed at Studio Salford in November 2007, has been reworked by the writer to become a highlight of the first week of the Re:Play Festival.
Crabb uses a clever device to bring together middle-aged, middle-class couple Ronnie and Bridgette and young, working class couple Otis and Paul: the older couple's daughter, Emily, has a terminal disease and they have given up their large house in Delph to allow her to live out her last days with her husband in the house where she grew up. Ronnie and Bridgette, meanwhile, have moved into a tiny flat in a tower block in a rather rough area of Manchester above Otis and Paul and their little girl Charlotte. The men seem to form some sort of a friendly bond, but the women clash and compete with one another through forced smiles.
This play has made a very comfortable transition to the Library's stage, replacing the sprawling staging and poor sightlines of the earlier production with blackouts for simple scene changes, which works much better. Crabb's script is slicker and more polished than before with the humour, which was perfectly fine before, enhanced and greatly appreciated by this Friday night audience.
The more serious parts of the play are not always as successful, often becoming too drawn out and self-indulgent. At moments of great emotion, one of the characters usually goes into an extended monologue, leaving the other with little to do except smile and nod awkwardly. These may make great audition pieces as they give the actor plenty of opportunity to rant or emote without interruption, but they feel completely unnatural and there are so many of them that they become a sort of dreary convention by the end. Just occasionally a serious moment is cut dead with a shocking, darkly-comic line, which works superbly.
The play moves along at a good pace for most of the time after a slightly halting beginning and manages to sweep the audience along with the story, although the direction occasionally lacks attention to details. David Slack is perfect as the laid back Ronnie who makes the best of everything, much to the annoyance of the fiery Bridgette, played by Francine Rees, who hates everything about her new home. Writer Cathy Crabb plays Paula opposite James Foster as Otis, and both get every bit of comedy out of the characters and the lines.
While not without its flaws, this much-improved play is entertaining and interesting and at times very funny.
Reviewer: David Chadderton