The Reporter
Nicholas Wright
RNT Cottesloe
(2007)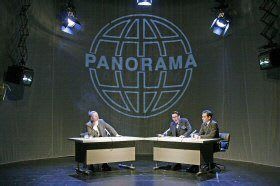 The Reporter is James Mossman, a real life figure of his time, the 1960s. The subject matter and era immediately bring to mind Frost/Nixon, Peter Morgan's Donmar hit, soon to open on Broadway.
The play starts and ends with his suicide and, in between, he narrates his life from the perspective of his death. The journey is also measured by the deaths of six other people, all of which have some impact on the protagonist.
Ben Chaplin gives an immaculate performance as an Oxbridge type who seems to have all the trappings of success but finds professional doubt and betrayed love, as well as his own nature, gnawing away at his self confidence.
Mossman had several incarnations. When we first meet him in Vietnam in 1963, he is both a BBC war correspondent and a possibly retired "spook" or secret agent for MI6.
From star reporter on the front line, he joins a Panorama team struggling to cope with the illness and subsequent death of Richard Dimpleby. There he teams up with Robin Day, wonderfully portrayed by Paul Ritter, attempting to live down the affectionate BBC sobriquet of Cruel Glasses.
The funniest and most telling scene in the play features their two-handed interview of Patrick Brennan's Harold Wilson, a man whose image matters to him to the extent of swapping the cigar that he is smoking for the trademark pipe before the cameras roll. That would not happen on TV nowadays! While Day is relatively measured in his interrogation, Mossman is brutal and it is suggested that this humiliation of the top dog is what led to a demotion and a subsequent career in the arts.
The most interesting element of this scene though, is the parallel with politics today. Wilson defends British support for the American intervention in Vietnam in terms that will have had resonance for those who have listened to the current incumbent of Number 10 talking about the necessity for our presence in Iraq.
The love of a Canadian who has escaped from a mental hospital and thinks himself an artistic genius cannot have helped Mossman's career either. Chris New, who received universal plaudits for his performance opposite Alan Cumming in Bent once again shows real talent as Louis. This schizophrenic artist quickly gets in the way of his lover's work but does, along the way, create a film far ahead of its time, possibly the first example of reality TV.
After Louis finally succeeds in killing himself, Mossman is haunted by his memory and seeks oblivion but not until some strange scenes in which he meets unfashionable novelist Rosamond Lehmann, played by Angela Thorne. She is a firm believer that rather than dying we merely "cross over" and chats merrily to her daughter, who had (or hadn't) done just that fourteen years previously.
Director Richard Eyre and designer Rob Howell have used a stark, black box enhanced by Peter Mumford's memorable film noir lighting. Character and history are conveyed by film projections and pieces of furniture to fit every scene.
The Reporter is a portrait of a very different age, when homosexuality wasn't talked about, the Cold War might mean the end of life as we know it and TV documentaries would be watched by a fair chunk of the adult population. Nicholas Wright has scripted it using really pared down language that is perfectly delivered, particularly by Ben Chaplin who effectively carries the whole evening on his expensively-suited shoulders.
There are moments when characters irritate and the investigation of the journalist's interest in the supernatural is dismissive but The Reporter is a modern biography/history play that achieves its primary goal, to portray a contradictory man and his age convincingly.
Reviewer: Philip Fisher