The Representative
Rolf Hochhuth, translated by Robert David MacDonald
Finborough Theatre
(2006)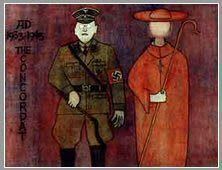 One has to admire the tremendous ambition of the Finborough Theatre. To programme a 3½ hour translated drama with a massive cast in a pub theatre in the middle of summer might be seen as madness. It doesn't help when temperatures outside are in the 80s and in the auditorium, despite an air conditioning unit and several fans, the elusive hundred might well have been exceeded.
The initial impression is good, thanks to designer Alex Marker who has a habit of working wonders on a minimal budget. The theatre is set in the round with the atmosphere created by four large paintings drawn from Stations of the Cross.
With a single exception, a cardinal who remains in fancy dress, the costumes too are a wonder, creating the right impression for priests, prisoners and soldiers. Best of all is an appropriately colourful member of the Swiss Guard.
The Representative is a powerful and important play that has caused considerable controversy with its suggestion that the Pope was aware of the death camps and chose to do nothing as a result of political expediency.
The key figures are two Righteous Gentiles, played by the strongest members of an unimpressive and eccentrically cast group of actors. Steve Sarossy plays Gerstein, an SS Obersturmführer whose conscience leads him to shelter Jews and risk his life in attempting to enlist the Pope's help to expose and close the Concentration Camps.
He is assisted by Fontana, a young Jesuit priest played by Oliver Pengelly, who is eventually martyred in Auschwitz, having long ago lost faith in his church, if not the religion on which it was so hypocritically grounded (at least according to the playwright).
Again and again, through the viewpoints of Jews, priests and Nazis, the Catholic Church, led by a man who believed that "Hitler on his own is defending the whole of Europe" is indicted for its failures, not only in this war but also The Spanish Inquisition.
This is a rich play, despite its great length but is not well-served by Kate Wasserberg's production. In particular, the great and the good of the Catholic Church lack gravitas, exemplified by Jack Klaff's campest of Cardinals, for some reason moving and sounding as if he had stepped straight out of PG Wodehouse.
Nevertheless, this is a rare opportunity to see The Representative and for those with stamina is well worth a trip to Earl's Court. The wise though, will wait until the thermometer has dropped a few degrees.
Reviewer: Philip Fisher